Chameleon Pharma Consulting has just finalised the annual comprehensive evaluation of consumer healthcare, pharma, food supplements, medical devices and cosmetics sales channels in four leading countries on different continents. The results of this analysis are quite surprising and unique, since businesses all over the world have all been heavily impacted by the COVID-19 pandemic.
In many countries, the pandemic became the needed accelerator for online sales and relevant regulations. The Chameleon Pharma analysis and evaluation was based on the so called MARCH countries:
Mexico;
America (the USA);
Russia;
China.
It is important to understand that the sales channels for OTC and pharma products vary from country to country. While pharmacies can be found in each of them, in many cases pharmacy chains are the drivers of the healthcare market. The recent growth of online shopping has been accompanied by the growth of online pharmacies (you can read our recent article here) and online marketplaces, that are also entering the consumer healthcare, pharma, food supplements and cosmetics world.
Overlook on the MARCH Countries
Mexico offers to its consumers numerous online platforms, the largest and most popular one being MercadoLibre.
Besides a full range of products, MercadoLibre also offers Mexican consumers OTC, FS and cosmetics sales; however not everyone is convinced with this way of selling. Like many other countries, Mexico is struggling with medicine counterfeiting and black market sales. Therefore, consumers tend to turn to a safer option – pharmacies.
Large supermarket chains are another location where consumers can buy medicine online. The product selection is however usually limited and does not even come close to the one in a physical/online pharmacy. Yet one should consider the fact that in the future this situation will change.
The largest and most well-known online marketplace in the USA is Amazon. The majority of items sold on this online platform are consumer goods, but a sizeable portion also comes from third-party retailers and independent sellers. Although cosmetic products and OTC medications have been sold on the platform for several years now, the acquisition of PillPack by Amazonrepresents the first major push into the pharmacy segment. PillPack allows customers to order Rx medications through Amazon for the first time, although this service is not yet available in every state. However, due to Amazon's extensive delivery network and reputation, the introduction of their online pharmacy service is expected to greatly disrupt the pharmacy market.
Figure 1: The Growth Of Online Pharmacies
Buying healthcare and pharma products online in Russia is becoming more and more popular among consumers, and according to several surveys, almost 70% of them are females between the ages of 25 and 35 with higher education and a job. Even though cosmetic and personal hygiene products are more popular among those who choose to buy online (around 20%), healthcare products and food supplements are also gaining better accessibility and growing audience (around 13%).
Ozon is considered the first and leading online marketplace. It offers more than 2 million products within 24 categories and a very speedy delivery. Nowadays, Ozon customers have an option of also ordering consumer healthcare products, cosmetics and food supplements on the platform.
Wildberries is another online marketplace that is slowing joining the list by providing their customers with not only food supplements and cosmetics but also OTC drugs. The possibility that more online platforms will join the group is extremely high, therefore considering them as one of the sale channels will be essential in the future.
Online ordering and delivery of goods is quite common in China, especially in large metropolitan areas. China is also home to some of the largest online marketplaces in the world, such as Taobao, Tmall and JD.
In recent years, these online marketplaces have been testing and releasing new healthcare features. For example, Taobao, which is a large C2C e-commerce website run by Alibaba has a new rapid OTC medicine delivery service. Users can browse local pharmacies for medications to purchase and then have it delivered by a courier within 30 minutes. Alibaba also runs their own online pharmacy under the name AliHealth Pharmacy.
JD, another large online marketplace by Tencent, also offers healthcare goods. With their delivery network, that covers 99% of China, even customers in rural areas can enjoy delivery of healthcare goods.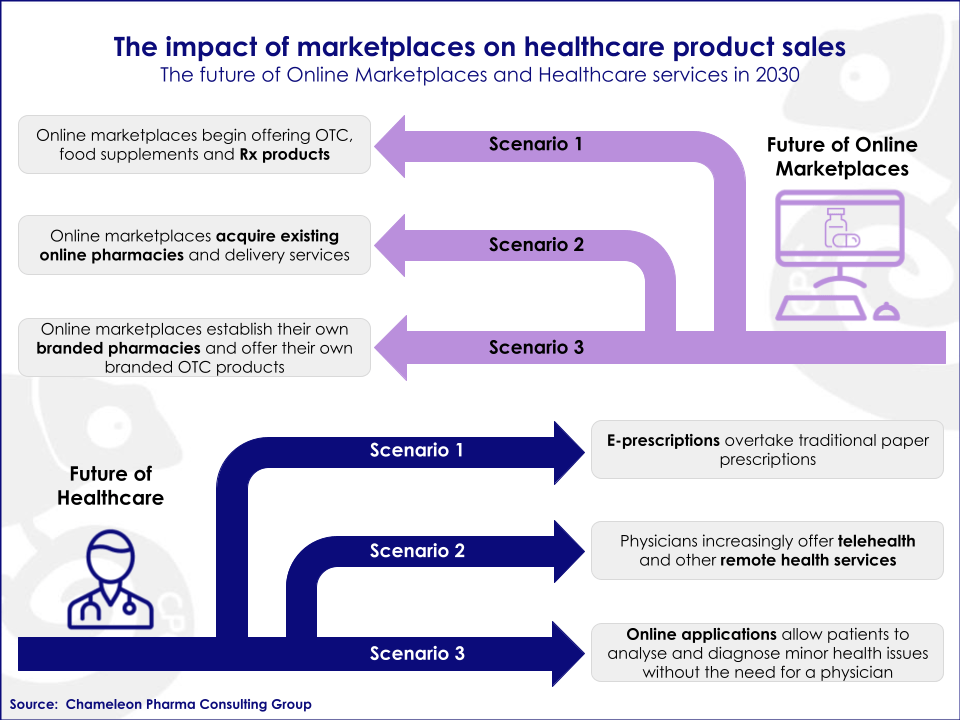 Firgure 2: The impact of marketplaces on healthcare product sales
Summary, Trends, and Outlook
Having in mind on our analysis and a speed with which online platforms are changing, there are numerous potential sales channel scenarios for future developments in the next 5-10 years.
Online Marketplaces will continue to grow take share from the pharmacy sector
Currently, online marketplaces have only captured a small proportion of the pharmacy sector. Additionally, due to regulations in the MARCH countries, the disruption is only limited to the OTC consumer health products segment. As online marketplaces develop, in 5-10 years, this may no longer be the case.
Changing regulations pave the way for online Rx sales: Online marketplaces in the MARCH countries will begin moving towards the Rx consumer healthcare segment. In the USA, the acquisition of PillPack by Amazon is an indicator that this trend will likely spread to other MARCH countries.
Online marketplaces will begin offering self-branded OTC products: As online marketplaces gain credibility for sales of consumer health products, sale of self-branded OTC products is a high possibility. This could greatly disrupt existing consumer health brands.
Development of Emerging Health Systems
By 2030, we can reasonably expect that emerging markets in Latin America, Russia/CIS and Asia will account for nearly half of market movement. In the MARCH countries in particular, the rapid development of both technology and the overall health systems will greatly impact the future. Some key points to look forward to for the future are:
The growth of telemedicine will change the patient-doctor experience: as doctors offer more online consultations to their patients, access to healthcare will increase proportionally to access to internet. As access to healthcare grows, demand for medications and consumer health products will also grow.
Increasing use of e-prescriptions will increase consumer habits: As more and more physicians transition to using e-prescriptions which are accepted by online marketplaces/pharmacies, consumer habits are predicted to shift towards more online sales channels.
International Strategy Changes for Companies
The online marketplace segment is emerging as a strong force that will greatly affect both the consumer health industry as a whole, especially in emerging markets. However, non-transparent market structures and data, complex registration processes and different market entry parameters for these emerging markets require expert knowledge and a network abroad.
Understanding how you can use these growing online marketplaces as a tool to help increase your business are important international success parameters for OTC and Pharma companies. Taking into account key figures and trends and developing the new right international corporate strategy is not easy, but we at CPC can assist you on that, and much more.