Our core strengths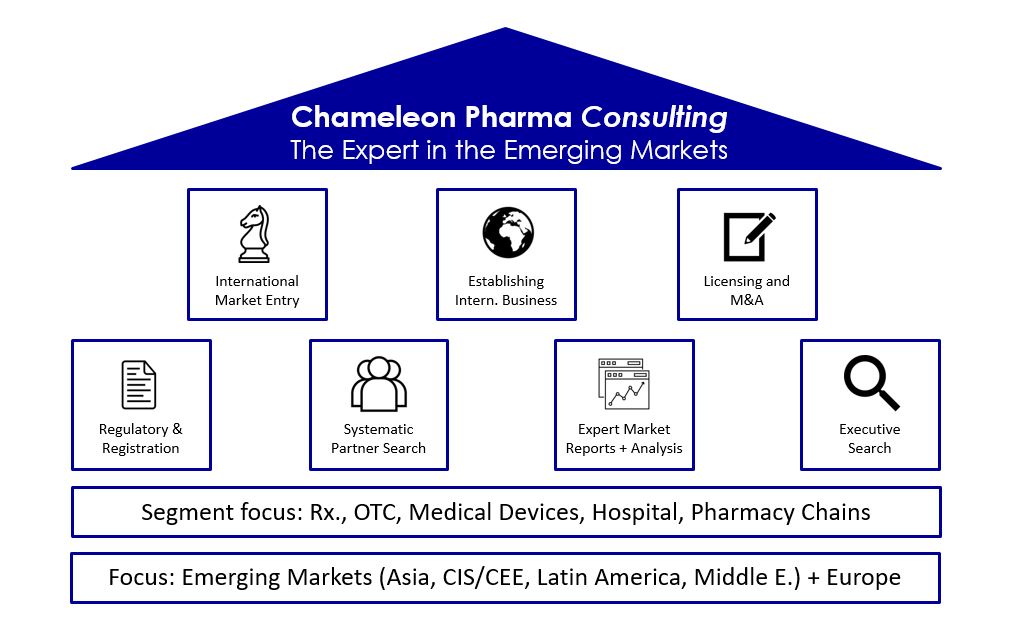 We at Chameleon Pharma Consulting provide our clients with a unique range of Market Entry Healthcare Consulting Services in Strategy & Marketing, Establishing International Business, Licensing & M&A, Regulatory & Registration, Publications, Executive Searches, and more. Our key areas of expertise are within the Pharma, OTC, Medical Devices, Food Supplements, and Derma/Cosmetic segments, and most of our client projects take place in Latin America, Asia, US/Canada, Russia/CIS, Europe, and the Middle East.  
International Strategy & Analysis
We support our clients in identifying, conceptualizing, and implementing strategies for establishing new businesses around the globe.
– Individual portfolio identification
– International Systematic Product Potential & Country Analysis
– Systematic International Company Partner Identification
Read more.

Establishing International Business & Market Entry
We help our clients establish new business and gain additional sales in growing Healthcare Markets.
Read more.
International Systematic Product Potential & Country Analysis
In our systematic analysis, we support you by systematically analyzing and determining key information such as:
– Which 2-3 focus countries should you expand to first, which countries should you avoid, and why?
– Which of your 3-5 focus products have the best product potential, and why?
– What will be the approximate regulatory time and cost?
– What is the cost and time to market entry?
Read more.
Systematic International Company Partner Identification
While you concentrate on a daily business, we work on your partner search, prioritizing speed, and transparency. We save you valuable time and money by avoiding tedious "getting-to-know-you meetings" in the partner selection process.
Read more.
Licensing & M&A
Our experts have extensive experience in assisting Pharma companies in all phases of Licensing and M&A strategy development and implementation.
– Due diligence and M&A processes
– Sales & Marketing, Regulatory, Mid-Long Term Plan and more
– On all global markets
Read more.
Pharma Regulatory & Registration
Our Consultants have experience and up-to-date knowledge about current Healthcare legislation, regulatory requirements, and registration processes.
– Registration strategy check
– Fast track registration options
– Guidance in regulatory and marketing procedures
Read more.
Pharma Executive Search
Our services aren't limited to ordinary Pharma executive search procedures; we tailor our search process to focus on specific situations and scenarios that will bring value to your company.
Read more.
Additional Services
Market Reports and Analysis
We provide Analyses and Expert Reports on the Pharma and Healthcare Industry.
– In-depth analysis of pharma markets
– Expert report writing
– Valuable insights for our clients
Read more.
Publications
Our publication services include a wide range of analytical services designed to give you deep insights into Pharma and Healthcare Industry trends. Leveraging our years of experience, we aim to support you and provide the most accurate information about your chosen market.
Read more.