Services
We at Chameleon Pharma Consulting provide our clients with a wide range of Pharma and Healthcare Consulting Services in Strategy & Marketing, Establishing International Business, Licensing and M&A, Regulatory and Registration, Publications, Executive Searches and more.
Our core strengths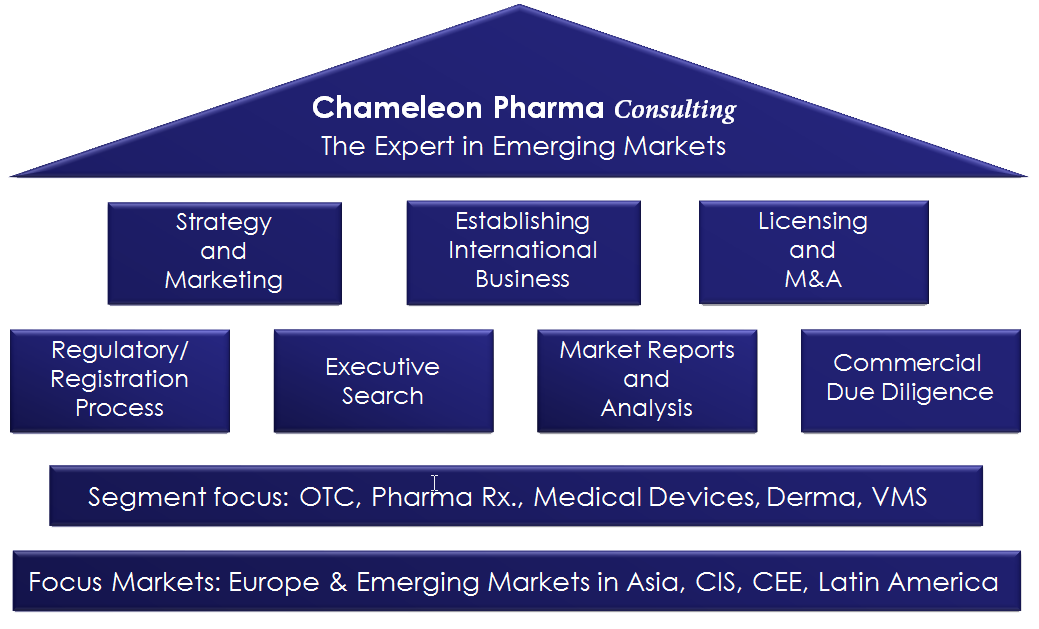 Strategy & Marketing
We support our clients in identifying, conceptualizing and implementing strategies for establishing new business around the globe.  Read more.
Establishing International Business
We help our clients establish new business and gain additional sales in the growing Healthcare Markets. Read more.
Licensing & M&A
Our experts have extensive experience in assisting Pharma companies in all phases of Licensing and M&A strategy development and implementation. Read more.
Regulatory & Registration
Our Consultants have experience and up-to-date knowledge about current Healthcare legislation, regulatory requirements and registration processes. Read more.
Executive Search
Our services aren't limited to ordinary Pharma executive search procedures; we also specialise in specific situations and scenarios. Read more.
Market Reports and Analysis
We carry out Analyses and Expert Reports on the Pharma and Healthcare Industry. Read more.
Publications
Our publications service includes a wide range of analytical services which will give you deep insights into Pharmaceutical and Healthcare Industry trends as well as support you with an instinct and attention about the chosen market that are years in the making. Read more.