Pharma Production and Contract Manufacturing Consulting

For Pharma manufacturers, staying competitive in such a strong market can be tricky. Due to high production costs and raw materials from external sources as well as changing regulatory environment, having a clear strategic vision is a must. Staying up-to-date on global pharma production trends is a necessary step to keeping your business afloat, but having deep insight into local, regional and country-specific pharma production trends can provide you with the extra push needed to the top of your market. Especially considering the impressive growth forecasts for 2033, competition in this sector is also predicted to increase so it is important to plan ahead.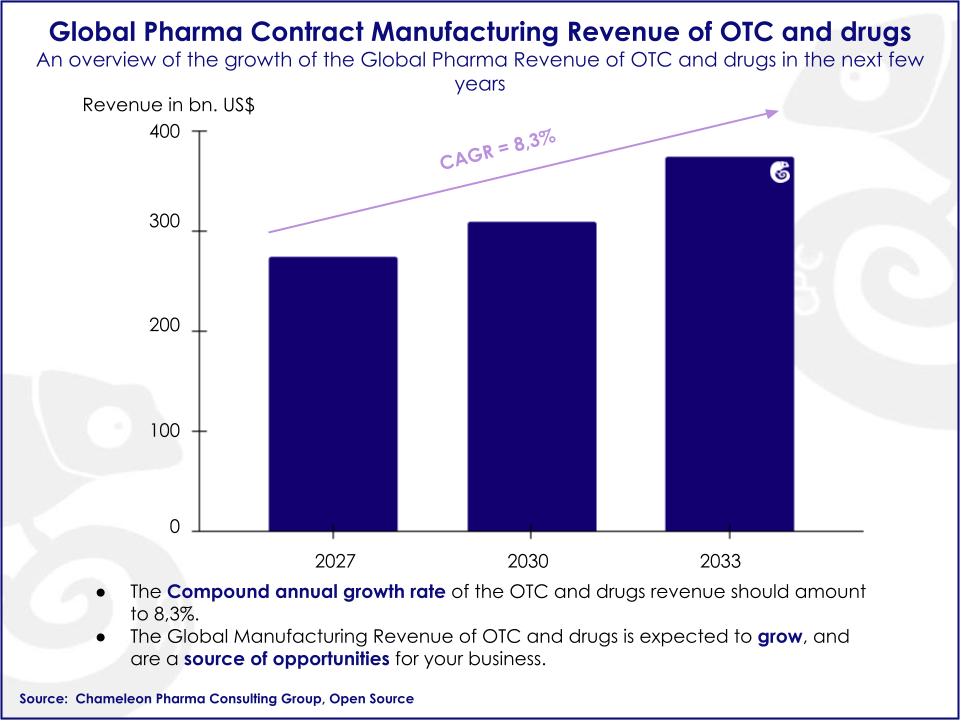 Selected Production projects we at Chameleon Pharma have worked on:
Advised and consulted many European and US OTC & Pharma clients on the improvements necessary to successfully completing the Russian GMP audit and receiving the RU GMP certificate.
Supported an international Consumer Health and Pharma company to comply with the upcoming EAEU Region regulations and support to hand-in a number of registration in the region under the new EAEU Region Pharma regulations
We have consulted a multi-stage analysis and outlined a comprehensive plan for receiving European GMP (EU-GMP) status for a client and his Pharma production plant in Asia.
We have conducted an audit analysis and completed the steps necessary for getting an ANVISA  GMP certificate for a European client looking to enter Brazil  and other Latin American countries
Supported a Medical device client on their product strategy for the Russian/Eurasian region
We have experience conducting production audits in order to receive GMP status in Europe, Mexico, Brazil, China, Russia, Ukraine, etc.
Identified multiple strategic acquisition targets to lower production costs through outsourcing to lower-cost Asian regions for the large-scale production of certain Consumer Health and Pharma products.
Pharma Outsourcing Investments to Emerging Markets
More and more manufacturing contractors are building new operations in Emerging Markets like India, China, Mexico and, more recently, Malaysia. Driven by margins, pricing, regulatory and QC pressures in developed markets, this market segment is becoming more competitive. The option to outsource certain projects to lower-cost Asian regions, especially for producing large-volume products, might be the perfect solution for Western manufacturing contractors and Pharma companies.
However, as regulations are changing and getting more difficult to pass, manufacturing processes are becoming more complex. This forces pharmaceutical players to develop longer-term and more beneficial strategies and agreements.
New ingredients and innovative packaging is key for Food supplement and cosmetic contract manufactures
International Company Partner Identification
Product Potential & Country Analysis
International Business & Market Entry
Pharma Regulatory & Registration
International Strategy & Analysis
Market Reports and Analysis