Medical Devices Consulting

In what countries the Medical Device segments show the best growth? How to succeed in the ever-changing Medical Device market? We guide your journey!
Medical Devices enable safe and effective prevention, diagnosis, treatment and rehabilitation of illness and disease. One cannot underestimate the significance of Medical Devices in the health care industry. The global Medical Device segment is expected to reach USD $750 bn by 2030, growing around 4-6% on an annual basis.
Medical Device consulting assumes an important role in this globalizing and fast-changing world. To understand why that is, we need to understand what Medical Devices are, the nature of current trends, and the drivers and barriers in the segment. In addition, we need to take a closer look at current opportunities and the challenges that go along with them. Medical Devices comprise a wide spectrum of products, ranging from basic medical device products – such as band-aids in Class I – to state-of-the-art devices and x-ray machines, pacemakers, or in-vitro diagnostics in medical device class III. The number and diversity of Medical Devices and the complexity exceed Pharma products by far.
Medical Devices can be divided based on the type of technology they employ. Usually, high-tech and widely used Medical Devices hold the greatest share of the market. In fact, electro-diagnostic, orthopedics, and X-ray devices are the largest segments of the international medical device market.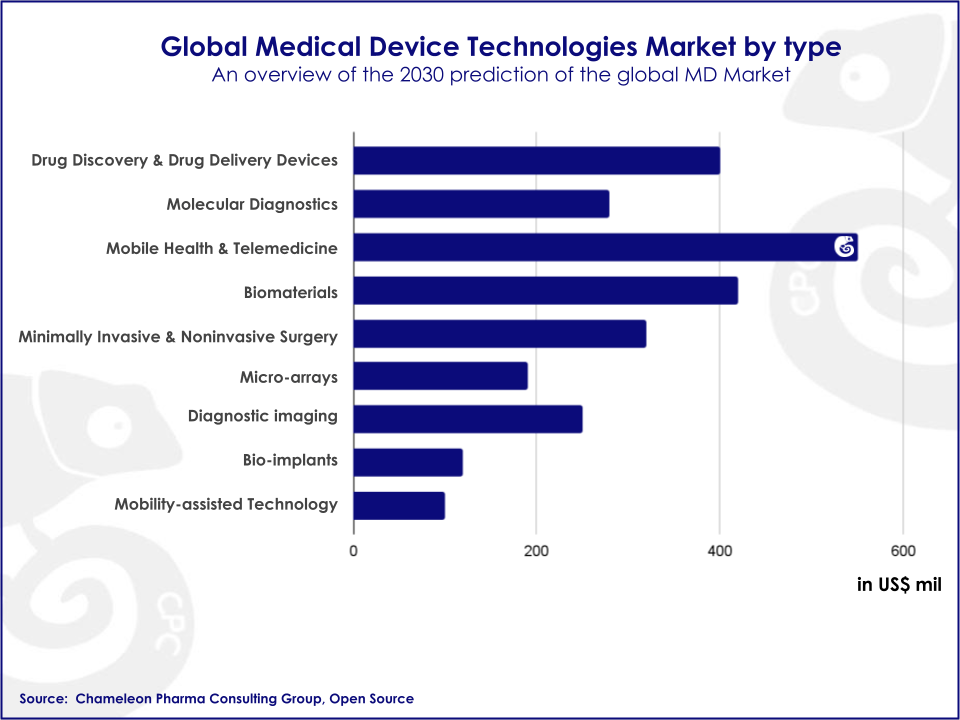 The Importance of Medical Devices
The World Health Assembly, the WHO's supreme decision-making body, issued its first resolution on health technologies on its 60th meeting. The resolution urged the Member States to acknowledge the importance of health technologies for the achievement of health-related goals. It also encourages the Member States to expand their expertise in the field of health technologies, especially in Medical Devices.
Despite healthcare benefits, access to Medical Device systems differs widely across countries in the world. The WHO states that Medical Devices are essential for a functioning health system and it is working on policies to encourage improved access, quality and use of these products across the globe.
Together with the Bill and Melinda Gates Foundation, the WHO established the Global Initiative on Health Technologies (GIHT). The GIHT´s objective is to:
Encourage the international community to establish a framework for the development of national essential health technology programs.
Challenge business and scientific communities to identify and adopt innovative technologies that could have a significant impact on public health.
Systematic International Partner Company Identification
For a large European medical device company, we identified the 5 best fitting local partner companies in Latin America and CIS/CEE using our Systematic International Partner Company Identification process. These partners were able to push the patented device into the hospital market and conduct the registration in those 5 countries.
International Systematic Product Potential and Country Analysis
Multi-step Strategic Portfolio Analysis
Through a critical examination of consumer trends and the creation of a multi-step strategic portfolio, we were able to guide a top 30 European medical device company to capture a 3% market share with their medical device instrument in the Russian and Mexican markets.
Support in Regulatory Process
Supported an Asian Pharma & MD company through the complex regulatory processes necessary for the registration of their top-selling medical device products in class I, II, and III in Europe by compiling and advising on the necessary steps together with a Notified Body.
Product Acquisition Target Identification
We conducted an in-depth analysis for a top 100 US medical device company to identify product acquisition targets that would expand their business in key foreign markets in Europe CIS including Russia and Asia, while also avoiding competitive bidding with other investors.
Medical Device Dossier Support
We supported a number of companies to harmonize their Medical Device Dossier from one region to fit the regulatory needs of other countries/regions eg. US vs. Europe and vs. China.
Product Launch Support
We have supported many class II medical device players to launch their product in Consumer health and pharma markets across the globe.
​Business Opportunities in the Medical Device Industry
The US is the largest market in this segment so far and represents up to one-third of the global market.  The European market comes in second place and just recently, China has overtaken Japan as the third-biggest market. As the US, Europe and Japanese markets mature and slow down, emerging markets have been recognized as important growth frontiers for Medical Device firms.
Big multinational companies commercializing state-of-the-art Medical Devices have historically held a majority share of the market. Companies such as J&J, GE, and Medtronic are the top sellers in the segment. Nonetheless, since R&D is less costly and time-consuming than in the pharmaceutical industry, the number of small and medium-sized enterprises has been rising in the past few years, adding competition and complexity to the industry.
Emerging Markets have unique characteristics that Medical Devices companies are still discovering. Identifying the winning strategies for Medical Devices and Pharma success in emerging markets is challenging since local knowledge and tailored entry strategies are essential. As a result, Medical Device Consulting plays a key role in this process.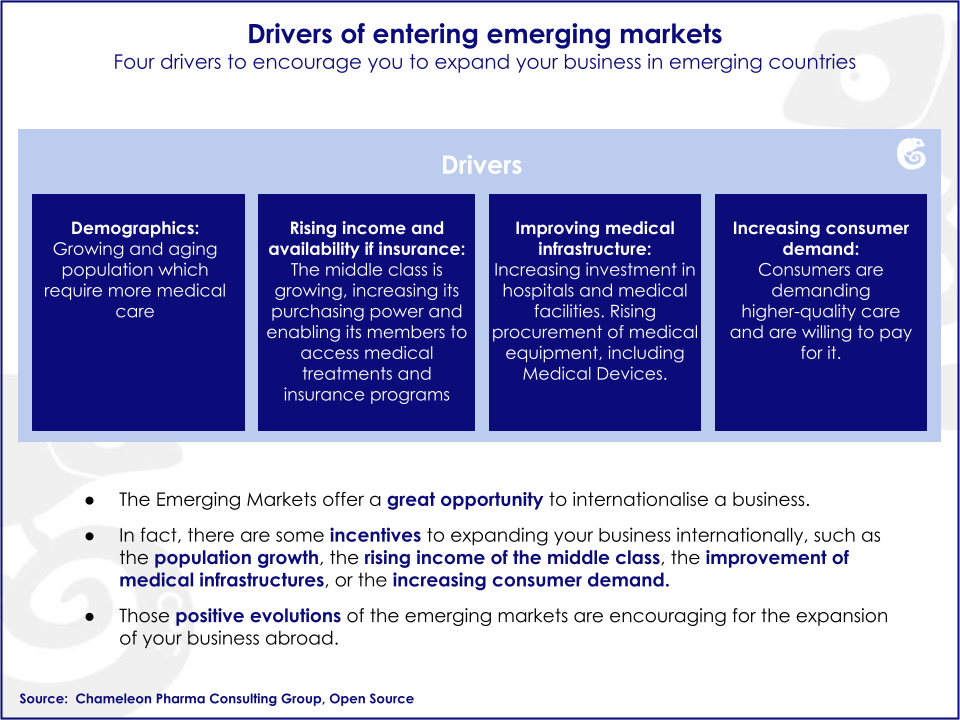 Revealing the Secrets of the Medical Device Industry in Emerging Markets
Emerging markets (EM) are showing the strongest growth in the Medical Device sector. The annual growth in emerging economies is in the double digits. Additionally, emerging markets are experiencing significant increases in income per capita, higher availability of medical coverage and development of the healthcare infrastructure.
Gaining a foothold in these regions presents a profitable opportunity for Medical Device firms. However, challenges come along with business opportunities.
Emerging markets bear unique traits, such as the level of affordability, accessibility, and awareness. Additionally, cultural attributes and specific clinical procedures and protocols in each country increase the complexity of the local market. Overlooking these factors has prevented companies from fully capitalizing on their potential. Knowledge of local markets is an essential asset for companies pursuing business opportunities in emerging markets.
Emerging markets possess untapped business opportunities that can potentially be harvested by foreign companies. There are specific drivers and barriers influencing growth in emerging markets.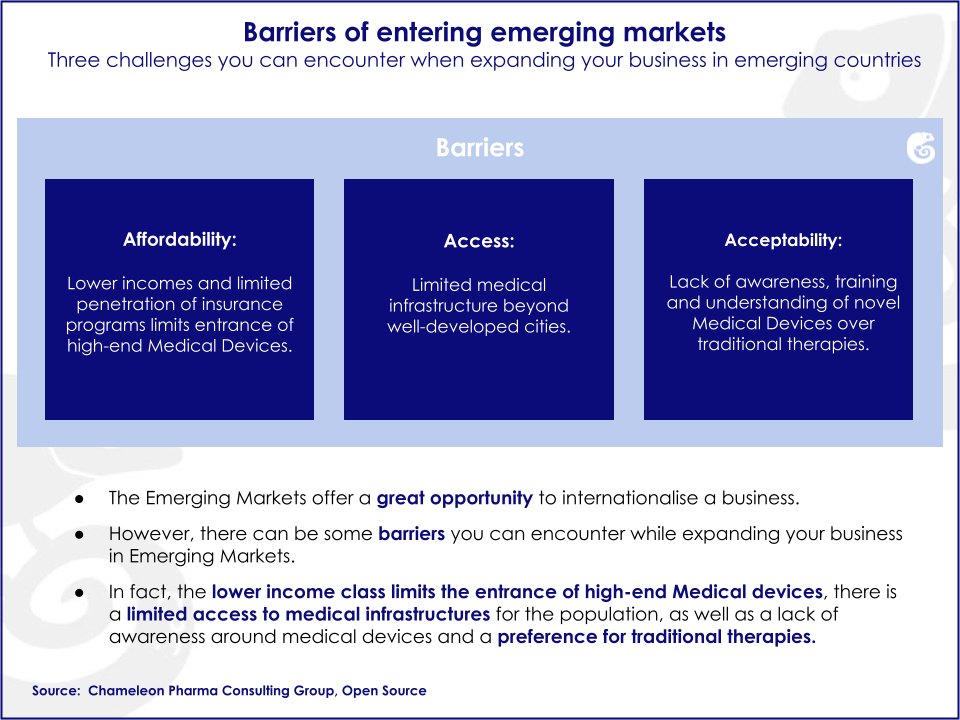 Challenges and Opportunities: Are you Prepared to Succeed in EMs?
Each emerging market is unique. Entering the market requires tailored strategies and collaboration with local partners who best suit your company and products. Working with competent local partners allows the company to overcome market barriers. It will also enable the company to tailor its product portfolio to local needs.
Customization of products is a strategy that companies may adopt to increase their share in emerging markets. Partnering with local partners can allow them to manufacture and distribute lower-priced products with sufficient quality.
Building distribution channels will also allow companies to penetrate the market more effectively. This can be done by establishing local offices, but the process is costly and time-consuming. In contrast, partnering with local players may be a more effective strategy. Since local companies know the drivers and barriers of the market, the process requires fewer resources.
Local partner companies can provide highly valuable insight into the country and enhance the quality of services provided to the consumer. Local partners can also provide training and create awareness of new products, which facilitates the adoption of new technologies. Finding the proper partner company in the country is therefore the key to success for Medical Device companies adopting this strategy.
Are you Aware of the Current Trends in the Medical Devices Industry in EMs?
Growth within emerging markets with medical devices is being driven by different products than in mature markets. On the one hand, each emerging market operates in a unique way. In most of them, the mid-end segment is experiencing the fastest growth. Nonetheless, competition from local companies is high as they have developed tailored and lower-priced products. On the high-end, foreign companies dominate the market; however, the growth in this segment is slower compared to the mid-end segment.
On the other hand, emerging markets with Medical devices present different clinical needs compared to developed countries. Companies entering emerging markets with their Medical devices products must adapt to these trends and work with local partners to gain local insights. Having an experienced partner or expert consultant who can provide guidance in the process is a key asset that will facilitate the entry of foreign companies to new markets.
Medical Device Consulting Paves the Way for You…
The Medical Device Industry is complex and can be confusing at times, it is important to make use of the knowledge possessed by specialists in each region. As already stated, current trends in emerging countries differ significantly with respect to those in mature markets. For a Medical Device company that is focused on its home market or region, it can be risky to enter a new region with different regulations, clinical needs, history and culture without having any background knowledge.
Each country and region has unique needs, preferences and consumer behaviors; and the Medical Device industry is not an exception. Working with a consultant who has solid experience with and insight into the local market improves communication and can help you to make more promising deals and avoid non-attractive business.
An expert consultant in medical devices will save you valuable resources in terms of time and money. Additionally, a consultant will help you shape your strategy while you keep concentrating on your regular daily business.
International Company Partner Identification
Product Potential & Country Analysis
International Business & Market Entry
Pharma Regulatory & Registration
International Strategy & Analysis
Market Reports and Analysis