Get The Important Insights!
Germany is spearheading the European OTC and pharma market with consistent and active growth in the sector. Get important insights into the latest trends of the German consumer health market, its growth projections, as well as the role of the main players.  
The German consumer health and pharma market – the largest in Europe and the fourth largest in the world – has been undergoing consistent and uninterrupted growth with an expected CAGR of 3,9% in the period between 2025-2035. Germany is expected to be a key contributor to the growth of the European pharma market, with an estimated market size of €168 billion by 2035. This is explained by the fact that the country's aging population and high healthcare spending make it an attractive market for pharma companies.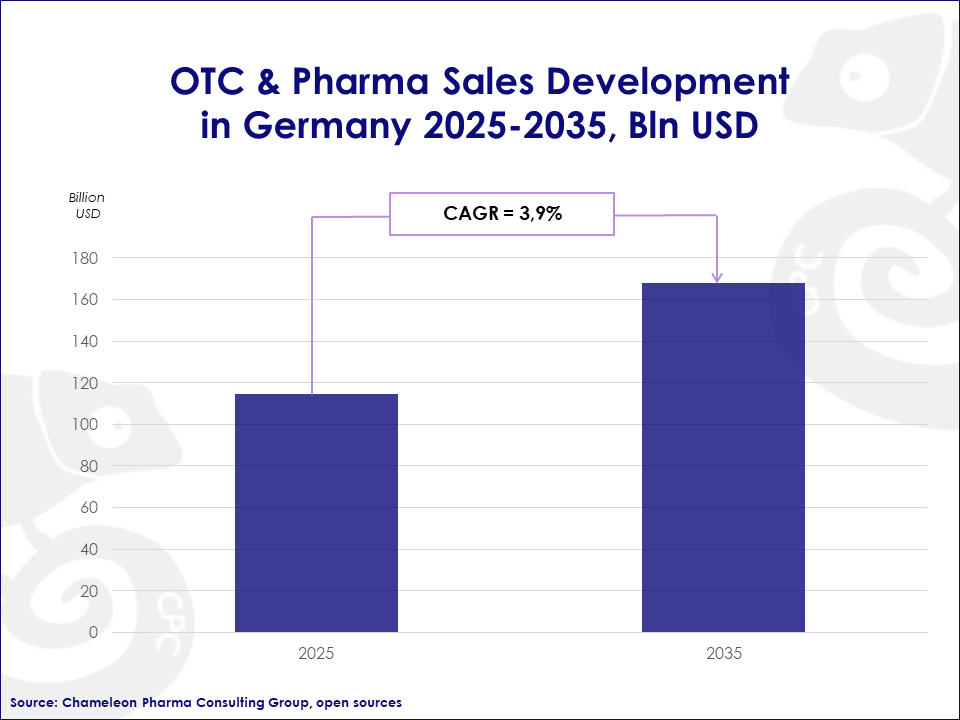 Driving self-medication and pharma market trends in Germany
There are several market trends that are currently shaping the German Rx and consumer health industry:
Digitalization: The COVID-19 pandemic has accelerated the adoption of telemedicine, remote monitoring, and other digital health solutions, presenting an opportunity for pharma companies to develop new products and services that cater to this trend.
Innovation: Germany has a highly advanced healthcare system that emphasizes patient-centered care and evidence-based medicine, which drives the demand for innovative medicines.
Personalized Medicine and Patient-Centricity: The increase in the use of genetic testing and biomarkers in R&D is aimed at tailoring treatments to patients. This is accompanied by a growing emphasis on patient engagement, patient education, and patient-centered clinical trials.
Biotechnology: The German biotech industry is expanding, with many startups and established companies investing in this area.
Artificial Intelligence (AI): Germany has a strong AI R&D ecosystem, and many pharma companies are partnering with AI startups to identify new OTC and Rx targets and speed up the development process.
Biosimilars: Biosimilars are similar versions of biologic Rx drugs that have lost patent protection. The German pharma industry is seeing a growing market for biosimilars, with several domestic and international companies investing in this area.
Competitiveness and main players
The German consumer health and pharma market is highly competitive, with both domestic and international players vying for market share. Domestic companies such as Bayer, Merck, Boehringer Ingelheim, and Stada are major players in the market, while international companies such as Novartis, Johnson & Johnson, and Pfizer also have a significant presence.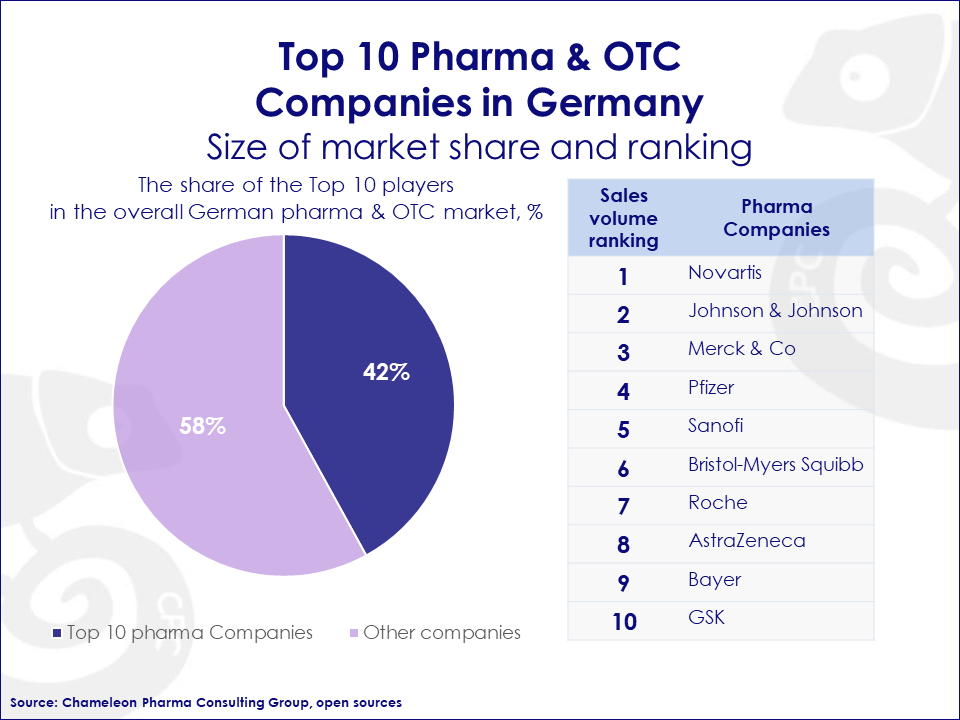 The German consumer health and pharma market presents endless opportunities for companies due to being one of the largest pharma hubs in the world. The dynamic environment with diverse incentives is an attractive destination for investors in the OTC, Rx, and pharma markets in Germany.
How Chameleon Pharma Consulting Group can support you in expanding your business in Germany:
Apart from having more than 25 years of experience in the German market, we also offer systematic country analysis and selection, as well as partner identification services to help identify the best-fitting country and segment for your current portfolio and expansion goals. We can also support you in registration and regulatory affairs in Pharma/Rx, Consumer health, MD, FS, Cosmetics, etc. If you want to learn more about expanding your business internationally, do not hesitate to contact us!
Featured picture: Photo by Maheshkumar Painam on Unsplash