Get The Important Insights!
The German OTC and pharma market is without doubt one of the largest and most diverse markets in the world. This diversity has led to some fascinating developments in the market's structure and operations. This article will look to unriddle some of the peculiarities of the German OTC and pharma market. The self-Medication and pharma market is divided between the hospital segment,  Krankenkassen and pharmacies. 
Statutory Health Insurance
Nearly 88% of the German population is insured via one of more than 100 statutory health insurance providers. Private and public insurance companies cover approximately ⅔ of total healthcare spending. 
On a yearly basis, more than 200 OTC and pharma companies are involved in the Statutory Health Insurance (SHI) business, participating in tenders and supplying the Krankenkassen. This creates a strong and viable market for generic products. In fact, more than 79% of the products sold via SHI are generics.
With a steady actual growth rate of around 5,1%, the German consumer health and Rx market is expected to keep increasing in size in the following years. Approximately 86% of the market revenue is usually generated by the pharmacy segment, while 14% is usually produced by the hospital segment.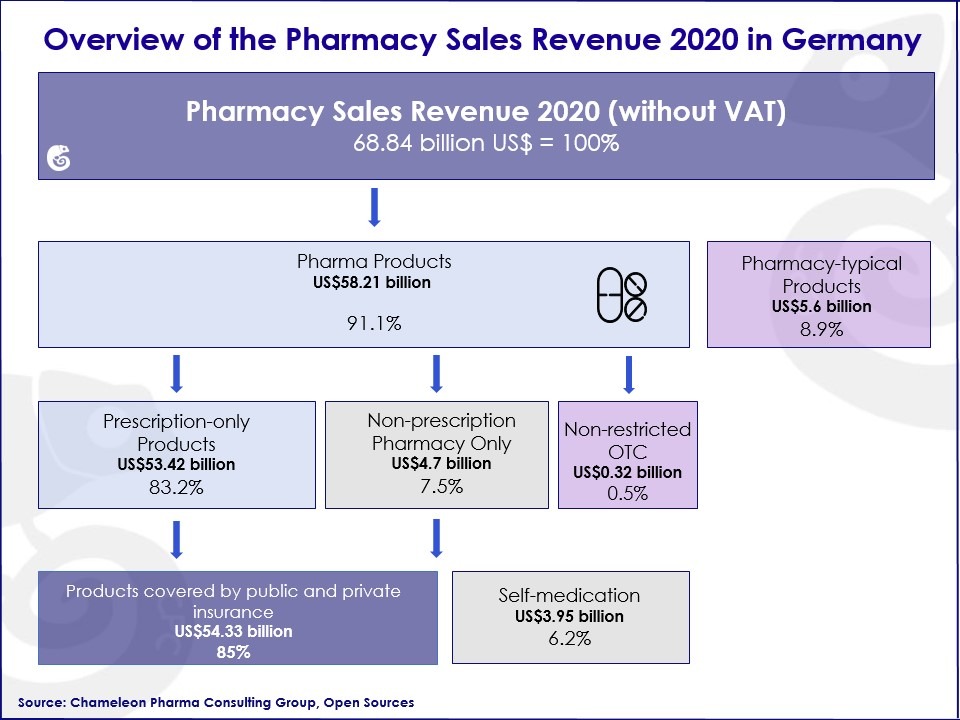 Figure: Overview of the Pharmacy Sales Revenues in Germany
Pharmacy Segment
Living up to the title of the "World's pharmacy", Germany has a leading position not only due to its market size, but also because of its production and export. In fact, in recent years, exports have grown by more than 10%, confirming the country's position as one of the world's leading OTC and pharma markets. 
Also due to its location in the heart of Europe, Germany represents a point of reference for the international medicine supply chain. 
Owing much to its storied history, the German consumer health and Rx market has an abundance of different market segments that may also be particular to it:
The German market is fueled by competitive and innovative products, as Germany's government encourages FDI investment and does not give special priority to local brands. 

The German market consistently ranks highly for average R&D investment. This makes it a suitable location for any research intensive, high-quality, goods regardless of the therapeutic segments, as most complex manufacturing processes are possible in Germany.
Finding your way into this market may be a little daunting. However, with our head office located in the very heart of Germany, Chameleon Pharma Consulting Group is your key partner for a flawless entry into the German market.