The Philippines Pharma and Consumer Health industry has experienced stable growth over the past decade, and its impressive growth is set to continue.
Of the top 20 global pharma companies, 14 of them have manufacturing facilities located in the Philippines, further signaling that we can expect growth of the Philippines OTC and pharma sectors.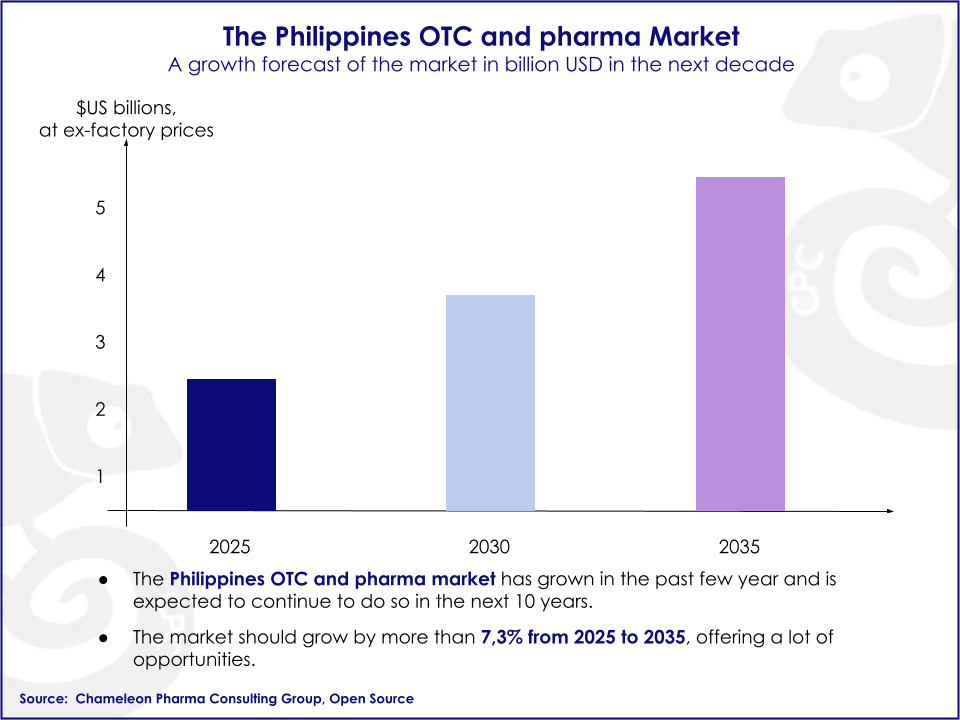 Additionally, out of a total 240 commercial sectors in the Philippines, the prescription drugs and OTC manufacturing sector contributed to 22% of total revenue vs other industries. With a relatively consistent CAGR of 9.0% over the past 5 years, by 2030 the Filipino OTC market alone is expected to balloon to 12.6 billion US Dollars in value. Overall, the Filipino Pharma market is driven largely by Rx sales, and the rest is covered by OTC products.
Distribution channels in the Philippines are dominated by pharmacy retail chains such as:
followed by private hospitals and government hospitals. The Pharma and Consumer Health market in the Philippines is experiencing tremendous support from the government through the encouragement of generic substitutions in both the public and private sector. Most of the products in Rx. and OTC are to be bought "out of pocket".
They have also brought into effect strong patent and trademark laws to protect innovation and encourage foreign investment. It is also important to keep in mind that the country has a Build Operate Transfer (BOT) investment structure and a liberal economic system that allows for 100% foreign ownership in most sectors.