Get The Important Insights!
The Mexican consumer healthcare and phyto industry is forecasted to keep growing at a CAGR of 9,99% in the period 2025-2035, compared to 8,52% of the LATAM region. According to our expert insights, the Mexican OTC segment is expected to reach 5,08 billion USD by 2035. But, what are exactly the most promising OTC and phyto segments?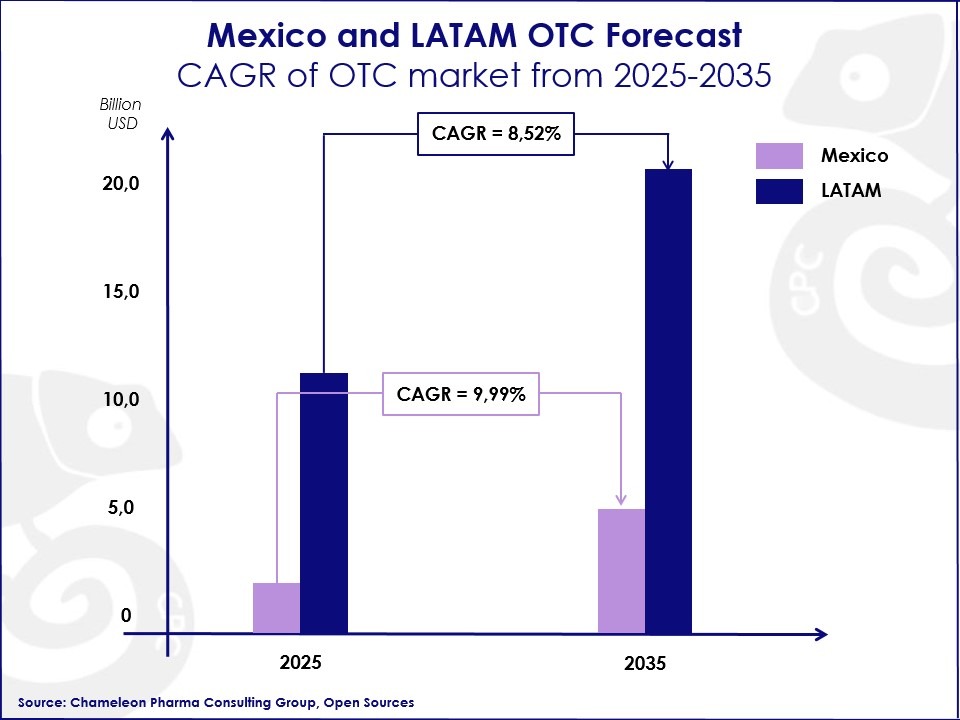 Infographic 1: Mexico and LATAM OTC Forecast
Skyrocketing self-medication Segments in Mexico 
Cough & Cold is the leading segment in the Mexico OTC market, closely followed by digestives and intestinal remedies. Besides, analgesics and vitamins also account for significant shares in this market.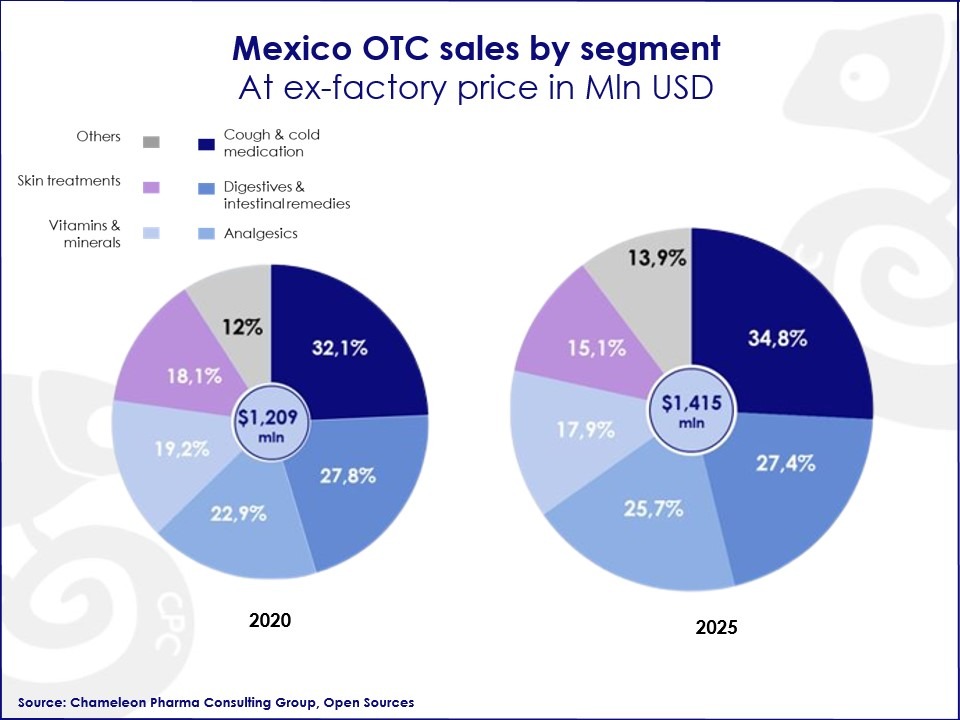 Infographic 2: Mexico OTC Sales by Segment at Ex-factory Prices
The Rise of the Cough & Cold Segment
Here are some CPC expert insights: 
The Cough & Cold segment in Mexico is

predominantly an OTC market

, with a

small percentage of antibiotic players

. 

 

20% of the Cough & Cold products are antibiotics and other Rx drugs, while around

80%

of them

are

OTC brands

including

Phyto drugs

. 

 

This is a relatively competitive and high-potential market due to the

high volume of consumption

by

Mexicans

.

 

Prospan

is the

phyto market leader

. The product is sold for approx. 11 USD per pack (100ml). The annual sale (by units) is about

1,3-1,5 Mln packs

.

 
Cough & Cold Consumer Preferences 
Mexicans commonly use traditional remedies made in Mexico as herbal medicines when symptoms start appearing, however, they are not considered on the same level as OTC and Phyto drugs in terms of quality of treatment. The market is characterized by having few Phyto competitor brands, which makes this a segment with plenty of opportunities to grow. 
Consumers recur to OTC and Phyto products when symptoms worsen by going to their nearest pharmacies or listening to specialist recommendations. In the market, there are different OTC options to treat the symptoms such as tablets, cough syrups, and food supplements like vitamins.  
The Leading Gastro Digestives & Intestinal Segment
Gastro is Mexico's second largest OTC segment and it includes a wide range of indications. The OTC market concentrates on therapies for milder symptoms such as irritable stomach, flatulence, and reflux, with products available in a variety of dosage forms such as drops, liquid, effervescent powders, and gels. 
Gastro Consumer preferences
This is a competitive segment with a majority of chemical products like the leading brands Espaven, Riopan, and Sal de Uvas Picot. However, some international Phyto products, like Iberogast from Bayer, have been entering the market very successfully, gaining superior sales and profits in a short time after the product launch.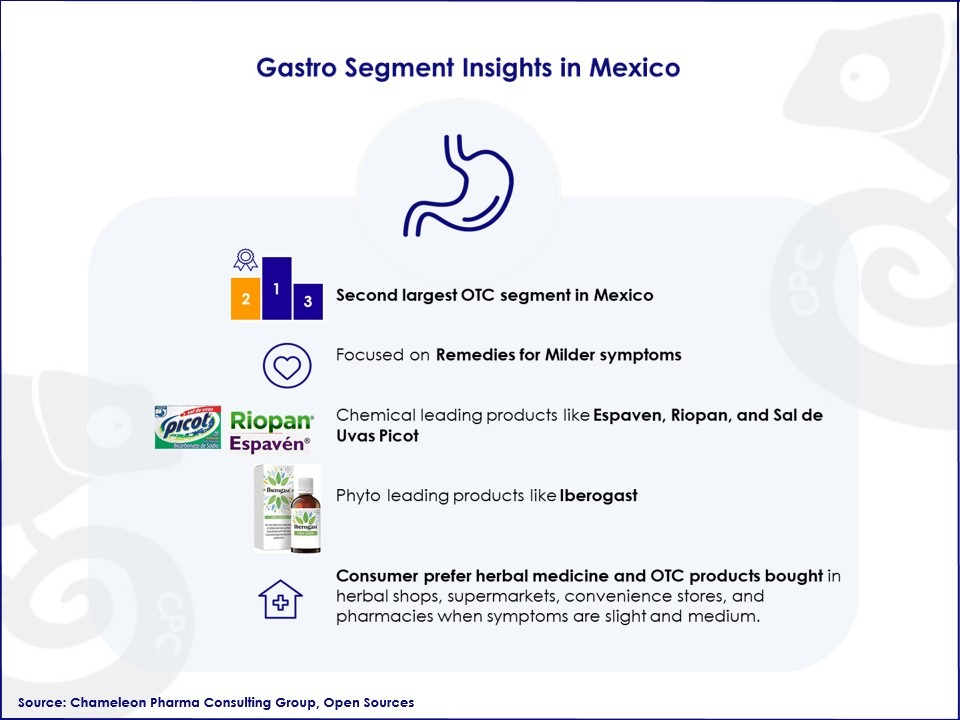 Infographic 3: Gastro Segment Insights in Mexico
The success of your international company in Mexico will be determined by the strategy you choose for market entry. With over 20 years of business experience and a solid network of experts in Mexico, Chameleon Pharma Consulting Group systematically analyzes the OTC Mexican market, determines the right market entry strategy, and identifies the best potential local partner to gain access to the Mexican OTC and Phyto market. Contact us today!