Get The Important Insights!
The self-medication and pharma Thai market is strongly influenced by the structure of its sales networks. The two main channels through which drugs are sold are healthcare facilities and retail pharmacies.

The healthcare facilities 
There are 38.150 healthcare facilities in the country, representing 80% of the total value of Rx drugs sold to patients. They can be divided into two categories:
Private facilities which include private clinics and private hospitals. Private clinics are less important than hospitals but offer a wider range of services than a doctor's cabinet. We count almost 24.800 of them across the country.
Public facilities which include a more diverse range of locations. It can be public hospitals (901), public health centers, district public health offices… They are less present than private facilities but less expensive for the population, and so more convenient.
The private and public healthcare facilities sell drugs directly from their premises, just after patients have been given a prescription by their doctor. Consequently, almost every medicine sold in healthcare facilities are prescription drugs.
The retail pharmacies 
The retail pharmacies sector is also highly competitive. Numerous players are trying to penetrate the market, despite the fact that it solely represents 20% of the total value of Rx drugs sold to patients. However, they account for approx. 90% of OTC drugs sold to the Thai consumers. The players of the market are the following:
Independent retail pharmacies form the most important part of the market. This category gathers a vast variety of retail pharmacies, from the one which can only offer some basic OTC drugs in the most remote parts of Thailand, to more complex independent ones, sometimes providing prescription drugs. There are an estimated 14,000 pharmacies which are independent. This number tends to decrease with the arrival of competitors with greater means, and due to the Good Pharmacy Practices imposed by the government.
Retail pharmacy chain are also presented in Thailand, even if the market is fragmented. They are generally located in big cities' malls across the country. The particularity in Thailand is that the chain stores are focused on OTC and beauty products. We count approximately 1.200 branded retail pharmacies split into at least 10 different companies, they offer a wide variety of products and services (discount, e-prescription, partnership with telemedicine, brand recognition etc.).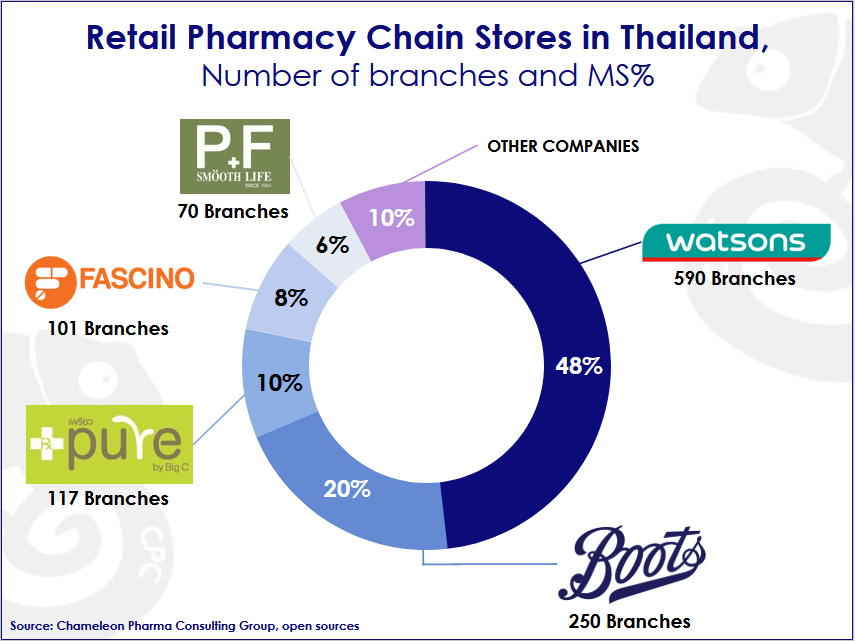 Infographic: Retail Pharmacy Chains in Thailand, number of branches and MS%
Online channels are also taking a huge importance in the market. If you want to know more we have a dedicated article to this topic, just here. 

 

Other types of retail pharmacies are also emerging such as

supermarkets

(selling directly in their aisles) or

convenience stores

(7-Eleven, Lawson, Lotus Express, Mini big C…). These kinds of retail pharmacies focus exclusively on OTC. They also widen their portfolio by offering cosmetics or daily hygiene products. 



Entering the Thai self-medication and pharma market requires specific knowledge. We at Chameleon Pharma Consulting Group, with 20-year expertise via more than 300 international projects, can provide you with valuable insights into mature and especially, emerging markets. Contact us at service@chameleon-pharma.com for more information!