Get The Important Insights!
The Italian e-commerce OTC and food supplements market is growing, driven by convenience and cost-saving for consumers. The total revenue of the market is expected to grow at a compound annual growth rate of 14.91% in the period between 2023-2027. 
Italian consumer behaviour 
The Italian consumer behaviour in the OTC and food supplements market is shaped by the strong tradition of self-medication. Many Italian consumers prefer to purchase OTC medications and supplements rather than seek out prescription drugs from a doctor or pharmacist. 
However, there is still a strong demand for Rx drugs in the Italian market, particularly for conditions, such as diabetes, high blood pressure, and heart disease. Italian consumers are becoming more aware of the risks of self-medication, and there is a growing trend of seeking medical advice and prescriptions.  
The rise of online purchases of OTC drugs and Food Supplements
In terms of distribution channels, Italian consumers have a variety of options for purchasing OTC and food supplement products. They can purchase from traditional pharmacies, supermarkets, and online retailers. While traditional pharmacies remain the most popular, online retailers are gaining popularity due to the convenience and wider range of products they offer, particularly with the COVID-19 pandemic, which accelerated the shift towards e-commerce. 
According to recent projections, the online market for OTC and food supplement products in Italy is expected to experience significant growth in the coming years. Revenue is expected to grow at a CAGR of 14.91% in the period between 2023-2027, resulting in a projected OTC market value of US$ 882.80 m by 2027.  
Furthermore, the user penetration, i.e., the percentage of the population using online pharmacies, is expected to increase from 26.73% in 2023 to 35.61% by 2027, highlighting the growing popularity of online purchases of OTC and food supplements among Italian consumers.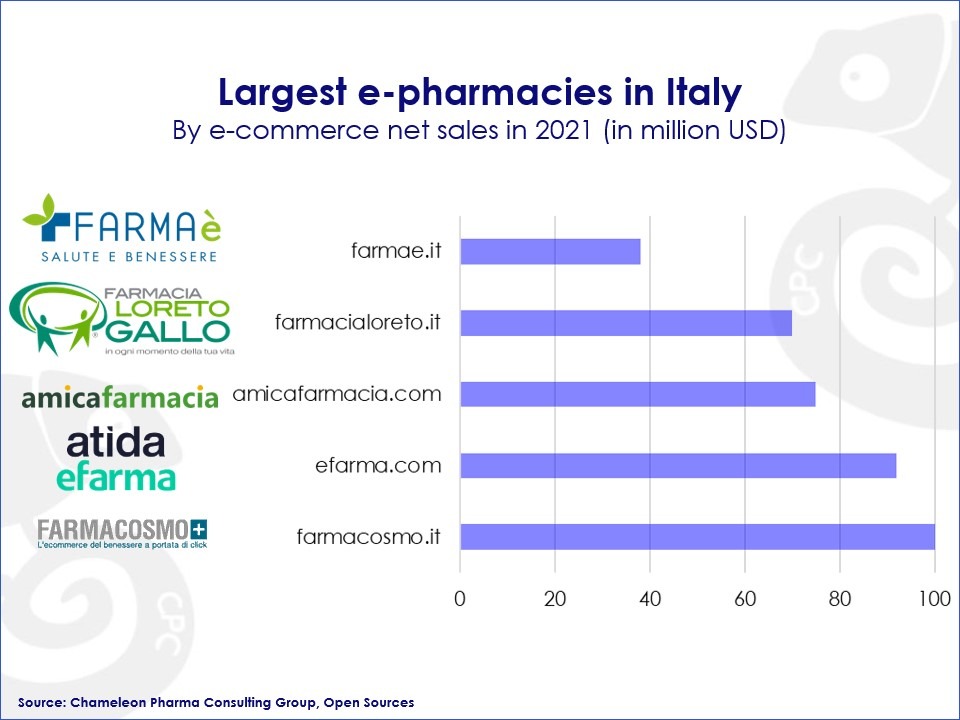 Figure: Largest e-pharmacies in Italy
Regulation of the online pharma market
It is worth noting that the e-commerce market for OTC and food supplements products is highly regulated, and strict regulations must be followed to ensure the safety and quality of the products sold online.  
Currently, Italian online pharmacies are only allowed to sell commercial products such as OTC and food supplements, making the e-commerce turnover account for 5% of the market. 
The Italian Medicines Agency (AIFA) has also implemented regulations for the online sales of drugs. These regulations include the requirement for online pharmacies to be registered with AIFA and for the drugs sold to be authorized for sale in Italy. Additionally, the regulations require that the pharmacies must provide customers with information about the drugs, including their composition, dosage, and possible side effects. 
Entering different local markets requires deep knowledge of each country's regulatory environment and competitive landscape. We at Chameleon Pharma Consulting Group, with expertise via more than 200 international projects, can provide you with valuable insights into mature and especially, emerging markets. And we are happy to assist you in internationalizing your business. Contact us today!