Russia: A market back to good growth!
Russia is geographically the largest country in the world and is among the top ten countries with the highest population, accounting for more than 146 million people. Many OTC and Rx segments in the healthcare segment still demand for new market entries, especially with regards to imported high quality and innovative products. Therefore Russia still offers a big potential for Consumer Health, Medical device and Pharma companies wanting to enter the market.
Private out of pocket market
The number of OTC and Rx. drug packages sold during 2017 through the pharmacy networks accounted for 5,066 million units, which is worth 941 billion rubles (approximately 12 billion euros). This represents an increase of 6.5% in terms of value and 3.5% in physical terms in comparison to 2016.
It is expected that the Russian pharma market will continue to grow and be attractive for investors because:
Demand for innovative quality products is still growing
The development with 5-6 times above the EU level is very attractive
More than 75% of the Pharma/OTC products in the market are still imported
Registration for OTC, drugs, medical devices and food supplements is complex
In recent years Russia has been stricter regarding the registration of goods used in the medical and health sector.
The new Law on Circulation of Drugs stipulates the requirements and procedures any pharma product has to go through in order to be registered for the purpose of production and/or commercialization on Russian territory. Under this law, every product has to be registered with the Ministry of Health and GMP audits for drugs became a must.
The process for registration is complex and consists of different sequential stages.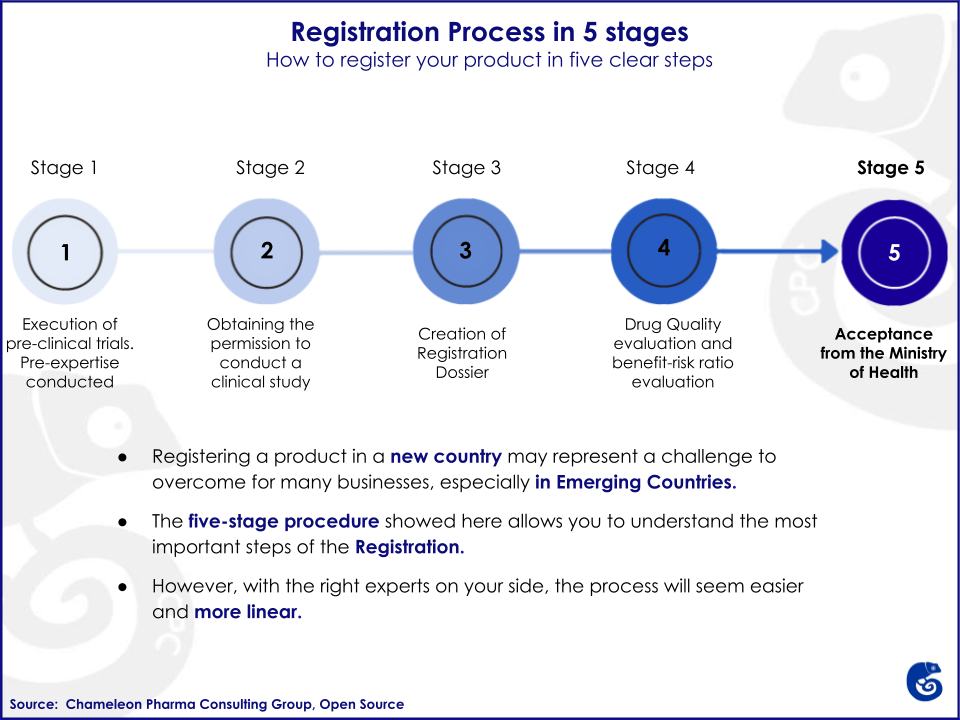 Stages
Stage 1: Execution of pre-clinical trials
Stage 2: Obtaining permission to conduct a clinical study in the Russian Federation with clinical trials
Stage 3: Creation of a registration dossier; including necessary documents for clinical study initiation and submission of the Registration Dossier to the Ministry of Health
Stage 4: Drug quality control at the FSBI SCEMP´s laboratory and approval of a normative document (specification and analytical procedures); and evaluation of the expected benefit and possible risk ratio and approval of the instruction for medical use of a drug
Stage 5: Decision by the Ministry of Health of the Russian Federation about the registration of the pharmaceutical product, and its entrance in the State Register of pharmaceutical products and marketing authorization issuance
GMP Certificate
Apart from the complex and not always easy to understand registration process, the GMP certificate from the Russian Ministry of Health is becoming a must. In case of renewal or new registration of OTC or Rx. drugs any plant inside or outside of Russia has to be inspected by the Russian authorities.
It is highly recommended to conduct a pre-audit with an expert consultant to prevent not passing the main audit by the government.
Our experience with registration in Russia
Our experts have more than 20 years of regulatory experience in Russia. This wide network of experts that includes regulatory officials and former MoH experts, allows us to successfully solve even the most difficult and complicated cases.
CPC is able to conduct pre-expertise reports (a kind of gap-analysis of the dossier). This helps you  to understand and follow the best regulatory strategy, reduce costs and finalize the registration in a shorter period of time.
CPC provides regular update calls to clients, allowing them to ask questions and inquiries and to understand the status of the procedure.
We are very happy to answer your questions in an initial free call, so you better understand the opportunities and challenges of the Russian market.