Get The Important Insights!
Romania's dynamic consumer health and pharma market presents a projected CAGR of 2.57% between 2025 and 2035. Discover the latest market trends and growth potential in this rapidly evolving sector.
Market Growth and Key Trends:
Romania's self-medication and Rx market has experienced a remarkable expansion in recent years, propelled by powerful factors that shape its rapid growth. Boasting a skilled workforce and competitive labour costs, the country has ambitious plans to increase its R&D spending with a 0.48% R&D over GDP, which is expected to produce a GDP impact of 1.63% by 2029, thus stimulating a high economic growth, leading to ground-breaking new treatments and therapies, and generating more generous government grants or tax incentives for R&D activities. As a result, Romania is becoming a hub for consumer health and pharma development, manufacturing, and distribution networks. The thriving environment also encourages fruitful partnerships between local and international players, opening pathways for innovation and growth.
Romania's OTC and pharma market growth projection till 2035
The key factors driving this rapidly evolving market include:
Robust economic growth: Romania's GDP is expected to grow at a steady peace resulting in enhanced consumer purchasing power, which is projected to drive demand for the OTC and pharma products.
Healthcare reforms: Romania is working to improve its healthcare system, targeting an increase in public healthcare spending.
Aging population: Romania's population aged 65 and over is expected to reach 27.7% by 2050, resulting in increased demand for healthcare services and products.
Increased health awareness: With better accesses to information and online health platforms, health awareness in Romania is on the rise, leading to higher demand in OTC and pharma products.
Key Retail and Online Pharmacies:
Driven by increasingly aggressive advertising campaigns from key market players, Romanians have sought to resolve their health issues independently, resorting to traditional medicine and pharmacies. Currently, the majority of pharmacies in Romania generate a turnover between 200,000 – 1 million Euros. This outcome is particularly striking when considering the broader landscape of the Romanian economy, where most businesses (over 90%) do not generate a turnover exceeding 100,000 Euros. The figures underline the robust growth and potential of the pharma market in Romania, standing as an exception in an economic context that sees most businesses grappling with more modest revenues.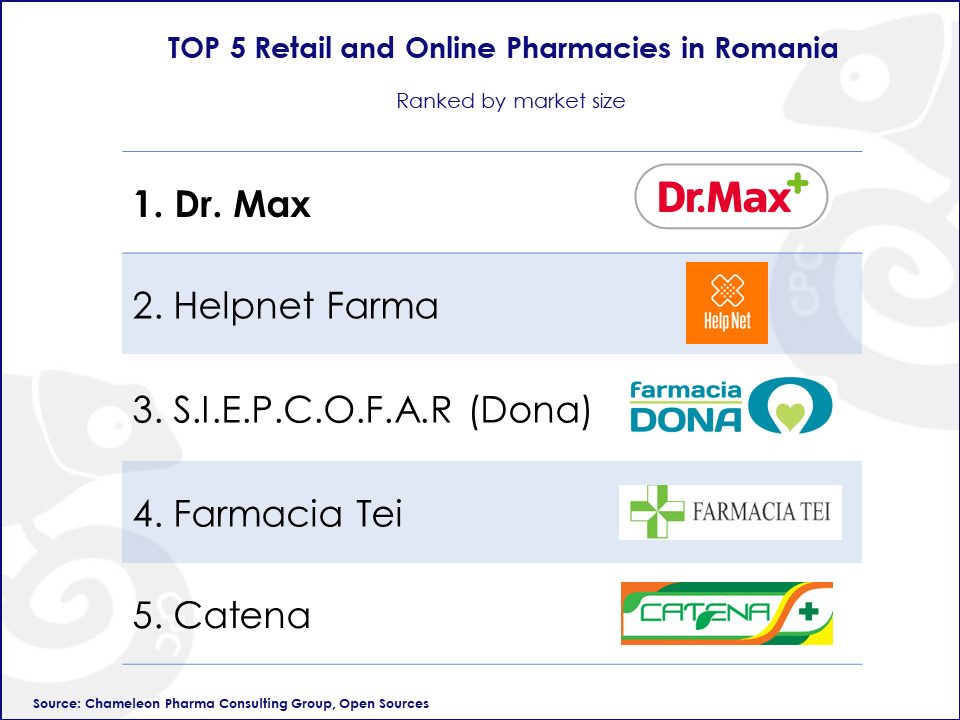 TOP 5 Retail and Online Pharmacies in Romania
Expand Your Business Internationally with the Chameleon Pharma Consulting Group
As Romanian self-medication and pharma market continues to grow and evolve, the potential for further expansion remains significant. The Chameleon Pharma Consulting Group offer expert guidance and support generating tailored solutions for international businesses to tap into the full potential of the Romanian market and achieve long-term success, focusing on areas such as consumer healthcare, medical devices, Rx, OTC, and cosmetics.