– Prosperous future in the Pacific
Indonesia is one of the most populous countries in the world. Its Pharma market has been growing non-stop for the past decade, and this growth should continue for years to come. Its OTC market is expected to be the fastest growing worldwide in the next ten years.
Indonesia is the fourth most populous country in the world, and its gross domestic product (GDP) has been growing in recent years. Three percent of Indonesia's GDP is spent on healthcare, and pharmaceutical spending per capita is increasing rapidly. The average Indonesian spends about 150 USD a year on healthcare, and Indonesia has almost ten thousand primary care centers and more than two thousand hospitals.
The Indonesian Pharma market is expanding at an immense speed: the national drug market grew by 85 percent over the period from 2007 to 2013.
Domestic pharmaceutical companies such as PT Kalbe Farma, and PT Kimia Farm etc. have a market share of 70%. The remaining 30% of the Indonesia pharma market is made up of foreign pharmaceutical companies like Bayer, Pfizer, GlaxoSmithKline, Mitsubishi Tanabe Pharma, Merck and others.
There are four classes of drugs in Indonesia: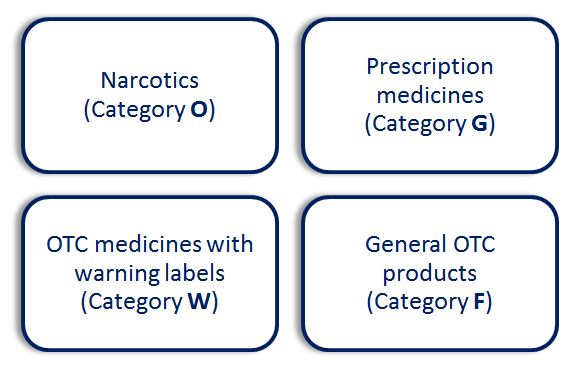 Registration
In order to register a drug in Indonesia, applications go to the National Agency of Drug and Food Control (NADFC). The Association of Southeast Asian Nations (ASEAN) Common Technical Documents (CTD) must be used, and ASEAN standards should be followed. It can take up to three years for a pharmaceutical product to be registered in Indonesia.
Improving healthcare
Over the last few years, the government of Indonesia has passed laws to improve its healthcare infrastructure and increase public spending on healthcare.
At the beginning of 2014, Indonesia introduced a universal healthcare system, administered by the National Social Security Agency. The universal healthcare scheme aims to provide better regulations, access, cost effectiveness and standards. The Indonesian government plans to have complete coverage by 2019. About two thousand hospitals have signed up to participate in the proposal.
The program will primarily provide coverage for generic drugs but not branded pharmaceuticals. Generic drugs are widely used by Indonesians.
The Rx equales to 58.9% of the total pharmaceutical market. This segment showed an average growth of 13.9% annually between 2009 and 2012, with continued growth predicted for the future. Simultaneously, the OTC market grew at almost the same annual rate: it grew at an average of 11.8% annually and reached a market share of 41.15 in 2012. The market is expected to reach about 14,7 bil. USD by 2020.
Regulations and restrictions
The main obstacles to big investments in Indonesia's pharmaceutical industry are corruption, low cost per capita for health care services and a relatively small percentage of elderly residents. However, the very large young population represents a significant target consumer base for children's products.
Inflation hits the Indonesian pharma industry particularly hard because almost 96 percent of the materials used in drug production in Indonesia are imported.
In addition, foreign pharmaceutical companies can face barriers to entering the Indonesian pharma market.
Several Indonesian laws protect the local industry from foreign competition. One of the decrees adopted in 2008 requires that all pharmaceuticals registered in the country be locally produced. This law was eased in 2010, allowing labeling and packaging to meet the local manufacturing standard. Foreign OTC and pharma companies have reacted to this decree by partnering with domestic companies or other international companies, or by expanding their own local manufacturing capacities in Indonesia.
The precedent for imposing government-mandated generic licensing took place in Indonesia in 2012 when the Indonesian government gave compulsory licenses for generics of several human immunodeficiency virus (HIV) drugs. The government suggested in 2013 that it had the intention and goal of controlling prices of brand name medicines, as well as to regulate the evaluation of new drugs through a more systematic assessment with the aim of supporting more rational use. Some foreign pharmaceutical companies have mentioned that they are worried about the Indonesian government's protectionist policies.
It is also possible that regulations for halal-certifying drugs could be applied in the future. Indonesia is a Muslim country and is a member of the Organization of Islamic Cooperation (OIC). On the 22th-24th of October, 2013, at the 4th Islamic Conference of Health Ministers, held in Jakarta under the Chairmanship of Indonesia, member countries agreed to Indonesia's proposal to become the center of vaccine development and production for the group. The OIC is composed of 56 member states and has a collective population of about 1.7 billion people.
Increasing the Indonesian National Consumer Health and Pharma market
As a part of measures for increasing the capacity of the national Consumer Health and Pharma market, the Pharmaceutical Association of Indonesia (GP Farmasi) announced that the domestic Healthcare sector relies on the creation of factories owned by foreign companies within the country. At the same time, active cooperation with OTC and Pharma companies of the Association of Southeast Asian Nations (ASEAN) is assumed. The goal is to create an industrial base of pharmaceutical raw materials in Indonesia. The data collected by GP Farmasi shows that the market for Selfmedication and Pharma products in the ASEAN region is rising.
Drug donations to fight AIDS
At the same time, the National AIDS Commission has said that to ensure a steady supply of antiretroviral drugs to patients with AIDS, Indonesia will continue to receive donations in the form of drugs rather than cash. This new rule was approved by the Global Fund for AIDS, Tuberculosis and Malaria. The Indonesian Ministry of Health has allocated more than 40 million US dollars for the struggle against AIDS, and more than 20 million US dollars has allocated by the Global Fund for antiretroviral treatments.
Innogene Kalbiotech Private Ltd., a pharmaceutical company based in Singapore, has signed a memorandum of intent with the Malaysian organization of clinical trials, Info Kinetics Sdn Bhd, to provide accreditation studies on bioavailability and bioequivalence in Indonesia. Both companies have also entered into an agreement to establish a joint venture, PT Pharma Kinetics, which will be placed in a hospital in Jakarta, the capital of Indonesia. The company's operations will be supported by PT Pharma Metric Labs, a research organization specializing in bioavailability and bioequivalence created by Innogene in Indonesia in 2005.
Future Outlook
However, despite the above-mentioned challenges, the Indonesian Pharma market still provides a significant opportunity for foreign pharmaceutical companies. Factors such as the annual growth of the Indonesian pharma market, along with the increase in population and relatively solid economic and political base, should ensure the continued involvement of multinational pharmaceutical companies. Analysts believe that sales of pharmaceutical products in Indonesia will continue to increase over the next 10 years, and it is expected that there will be an increase in sales of prescription and non-prescription medicines of 15 billion US dollars in 2020.
If you are planning on entering the Indonesian Pharma market, our expertise and long standing network can help you. Chameleon Pharma Consulting's knowledge of the Indonesian Pharma market is based on multiple Indonesian projects over the past 10 years. All our experts have at least 20 years experience, and we have helped several leading European and international companies in entering the Health care and Pharma sectors of Indonesia.
CPC Press Releases on Indonesia: