Get The Important Insights
Projected to reach 3.7 billion USD in 2035, the Malaysian OTC & Pharma market is growing steadily with a CAGR of 6.75% over a 10-year period.
The Malaysian self-medication and Rx market, characterized by its steadily growing and aging population, robust healthcare expenditure, and high demand for diverse medical services, describes a healthcare landscape of endless potential.
Malaysia's population is steadily growing at a rate of 0.4% annually, projected to reach an estimated 40.7 million in 2025. Life expectancy stands at 75.1 years, indicating a steady rise in the number of the elderly. These demographic trends suggest an increased demand for healthcare products and services aimed at chronic and age-related health conditions.
The total health expenditure of Malaysia in 2020 was equal to RM67 billion (US$73 billion), accounting for 4.73% of the GDP. The split between public and private expenditure was even, with public spending accounting for 54.63% and private spending making up the remaining 45.37%. This indicates a balanced investment across both sectors, presenting opportunities for pharmaceutical companies to participate in both public and private healthcare markets.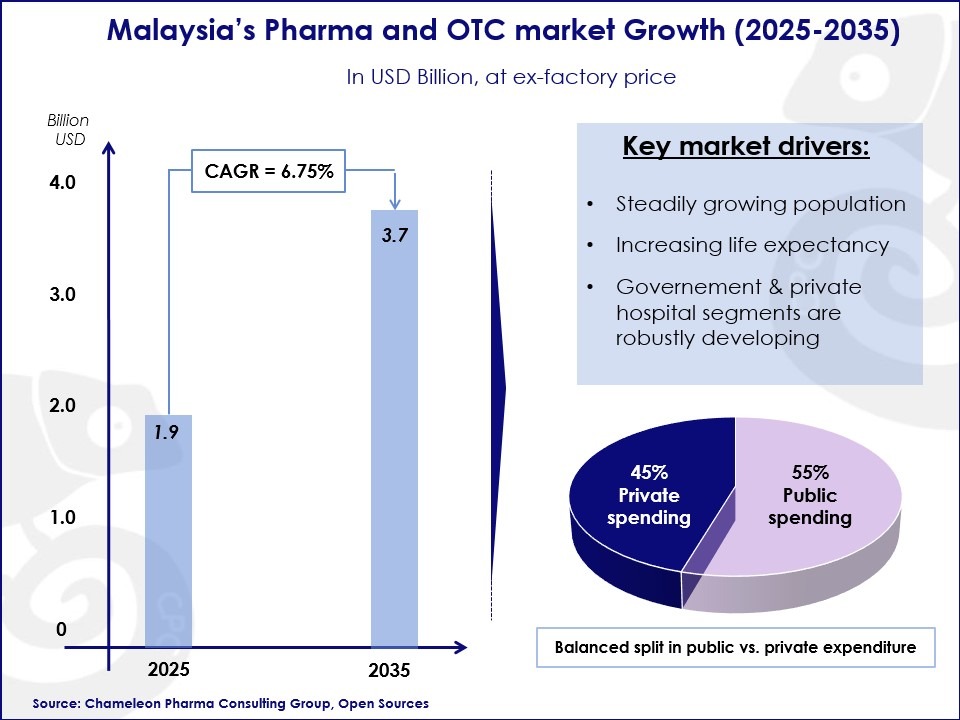 Infographic 1: Malaysia's Pharma and OTC Market
The Ministry of Health (MOH) in Malaysia operates a network of medical institutions, including 146 government hospitals, 1,138 health clinics, and 1,752 rural clinics. With a total of 44,117 official beds in MOH institutions and an additional 17,155 beds in private hospitals/clinics, the high demand for medical services and products is evident.
The leading causes of hospitalization and deaths provide a clear picture of the prevailing health challenges. In 2020, the top causes of hospitalization were pregnancy, childbirth, and the puerperium (22.24%), and conditions originating in the perinatal period (10.67%). As for mortality, diseases of the cardiovascular system (23.22%) and of the respiratory system (19.69%) were the leading causes in MOH hospitals. This data indicates potential areas for pharmaceutical intervention.
Expert market insight: Malaysian retail market share is distributed 60% in private clinics, where people usually go for simple problems. The remaining 40% belong to the pharmacies. If their conditions get more serious, people will go to the hospital.  
Why market your OTC and Pharma products in Malaysia? Characteristics of the business environment:
Located in Southeast Asia, Malaysia is an upper-middle-income country with a diversified economy and world-class infrastructure supporting a pharmaceutical industry comprising manufacturers, importers, and distributors.
Market-oriented economy, opening more opportunities for foreign players.
Well-developed financial and banking sector, including the Labuan International Financial Exchange (LIFX).
Wide use of English, especially in business Legal and accounting practice.
Large local business community with a long history in international business links.
Growing OTC & Pharma market in all sectors.
The fast pace growing population and foreigner friendly policies make Malaysia one of the most attractive healthcare markets in the region. Chameleon Pharma Consulting Group will support you in evaluating your business opportunities in this country, as well as offer you step-by-step market entry strategies. Contact us at service@chameleon-pharma.com for more information!