Get The Important Insights!
Latin America
has recently emerged as one of the
most important cosmetic´s industry market
, forecasted to reach
56,89 billion US$
by
2035
. As a result of an impressive
CAGR of 5.72%
in the forecasted period, from 2022 to 2035, the region will establish itself as one of the markets with the
biggest growth in beauty and skin care product sales
, with Brazil and Mexico playing a major role.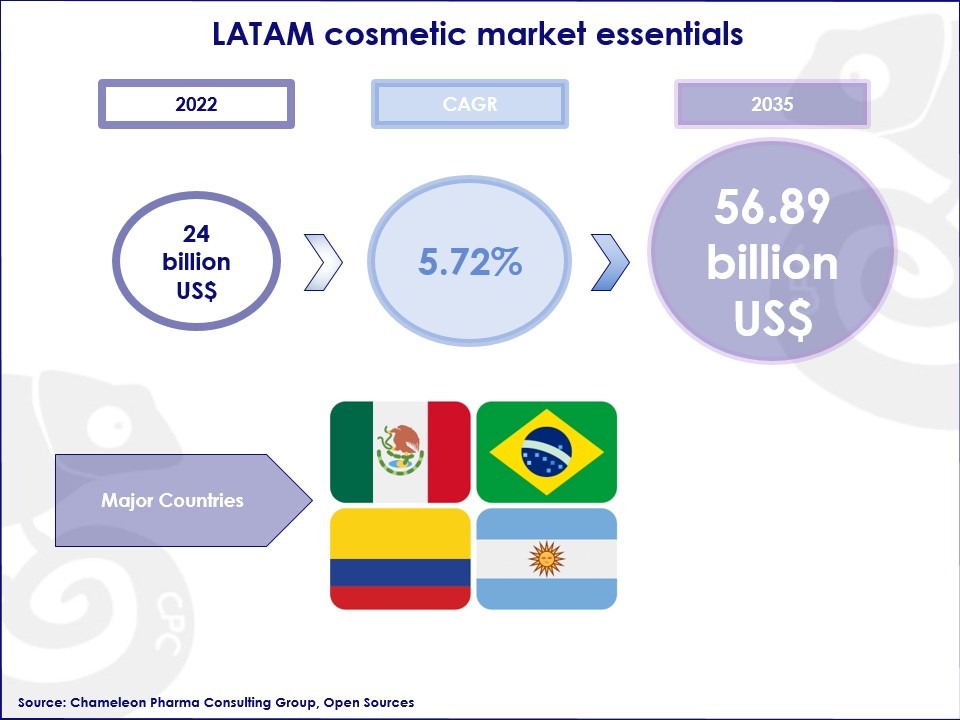 Infographic: Latin American Cosmetic Market Essentials
Latin America Expert Insights and Key Market Trends:
The increasing

aging population

, expanding

skincare concerns

, and

rising healthcare spending power

in Latin America are likely to drive

revenue growth

in the region´s

functional cosmetics

and

skin care ingredients

market throughout 2022-2035. 

The

top South American cosmetics market participants

are

L'Oreal

,

Shiseido

,

Avon

,

Estée Lauder

, and

Oriflame

. Product innovation is the direct approach employed by these powerful companies; new and inventive products assist the companies in

strengthening their consumer base

and gaining a competitive advantage over other firms in the segment. The potential for

long-term competitive advantage

through product differentiation is substantial.

Furthermore, Latin America producers frequently employ

natural substances

in cosmetics production that have no harmful effects on the skin in order to

attract more customers.

As

product safety

and

efficacy testing

adds value to cosmetics and skincare products, there has been an

increase in demand for clinical testing

in the region, aided by ongoing government initiatives to impose rigorous control on the cosmetics sector.
Inclination Towards Functional cosmetics/derma products:
The cosmetics industry's transition to functional cosmetics has accelerated in Latin America. Functional cosmetics are specialty chemicals, which are added to cosmetic skincare products to enhance their functional qualities. These include, among other things, substances like UV agents, exfoliators, conditioning agents, and anti-aging agents. To raise the final value of the products, functional cosmetics are incorporated into a variety of skin and hair care products, including creams, lotions, masks, shampoos, dyes, and other formulations for the face and body.
For example, Vitamin A is a component of a wide class of compounds known as retinoids, and it is found in a variety of cosmetic products in the forms of retinol, retinyl esters, retinoic acid, retinyl palmitate, acitretin, and adapalene. Vitamin A derivatives serve to reverse photoaging and minimize the appearance of wrinkles, and they are also utilized as a therapy for acne and skin-lightening effects.
Country to watch:
Brazil is a profitable market for cosmetics and derma brands
Among the major players of the Latin America Cosmetic Market (Mexico, Chile, Peru, Colombia, Argentina), Brazil is a peculiarly interesting case. Not only are sales of women's cosmetics strong in Brazil, but the men's cosmetics industry has also grown in the country. Brazil beauty culture is predominant: people genuinely care about their appearance, interpret beauty as a sign of empowerment and individuality and are willing to integrate time-consuming beauty routines into their daily schedules. Product innovation by key companies, as mentioned before, continues to promote cosmetics and derma sales. Several nationwide companies are investing heavily in innovative cosmetics formulas and attractive packaging. The beauty industry accounts for 1.8 percent of Brazil's GDP, according to the Brazilian Association for Personal Hygiene, Perfume, and Cosmetics Industry.
Our services
Chameleon Pharma Consulting Group's expertise includes a detailed analysis of the Latin American cosmetic, derma and aesthethic skincare sectors. We assist our clients in gaining a more profound understanding of the industry potential in order to reap the benefits of a successful strategy, based on the considerable network and knowledge of our multicultural experts in the thriving derma, cosmetic and aesthetic medicine markets in Latin America.