Get The Important Insights!
Maybe we can support you to answer some of the medical device (MD) questions below:
– How to adapt MD products to new MDR rules?
– Do I have to re-group my product from class II to class III?
– Advantages to change the notified body?
– Benefits to release my MD in a different EU country?
– How to avoid class III MD for my product?
Starting in May 2021, the Regulation on Medical Devices (MDR), under Regulation (EU) 2017/745, has introduced new provisions regarding the responsibilities of the European Medicines Agency (EMA), and National Competent Authorities (NCA), for medical devices (MD) and notified bodies (the organizations that are qualified to certify the different risk classes of MD).
Below are some highlights of the new regulations, according to EMA:
The EU national Notified bodies (NB) need to seek a designation under the new strict EU MDR requirements. Until May 2022, only 28 NB have been designated within the MDR's scope, compared to over 100 NB before.

Depending on the risk profile of the MD (class I, IIa, IIb,or III), the registration process will need to be made with the appropriate notified body .  With higher risk levels, requiring more involvement from the NB. 

The

classification

of the medical devices according to risk level will be

reassessed

on a

case by case basis, in order to decide which product will fall into the scope of the new quality requirements. 
Specifically: 
Medical devices that form an

integral product

are required to submit an

EU certificate

or an opinion from a notified body in certain circumstances. 

For MD that

incorporate

a

medicinal substance

with an ancillary function to the device, or composed/combined of substances, the NB will seek a scientific opinion from either the

NCA

or the

EMA

.

The notified body will also consider the opinions of either NCA or EMA for the

companion diagnostics

.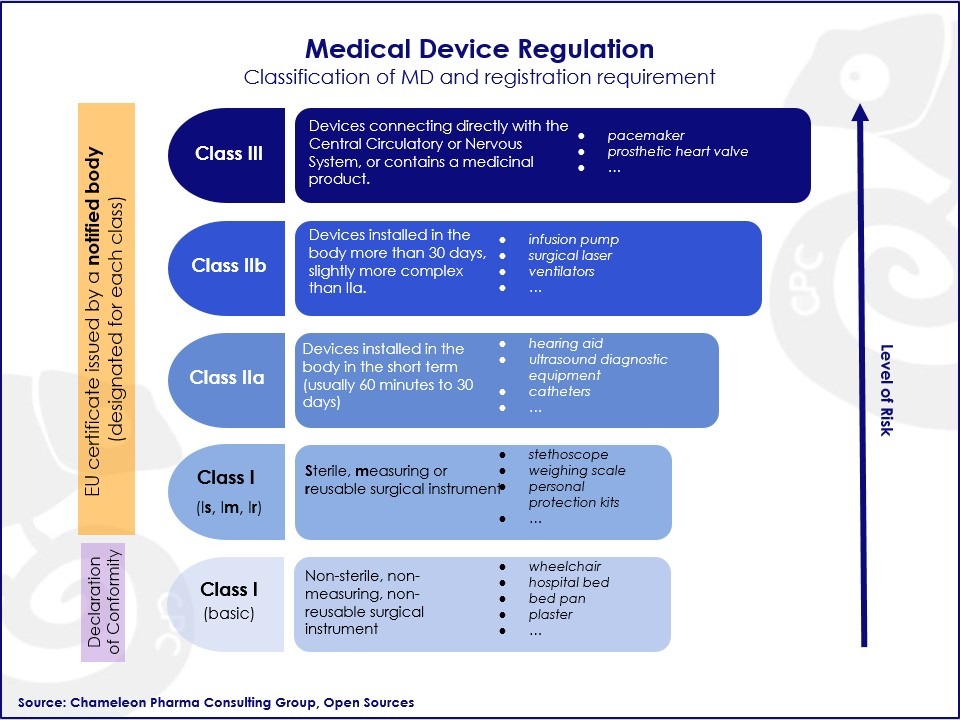 Figure: Medical Device Regulation (MDR) Classification and Registration Requirements
With the aim of establishing high standards of quality and safety for MD, the MDR repealed two previous directives on MD and active implantable MD, within a four-year transition. 
However, the existing certificates which are valid under either Directives 93/42/EEC or 90/385/EEC, as well as meet certain requirements from MDR can still be on the market until May 2024 at the latest. Aside from that, the devices that are pursuant to Directives 90/385/EEC and 93/42/EEC prior to 26 May 2020 may continue to be made available on the market or put into service until 27 May 2025.
These are compulsory changes which will affect the future of Medical Devices in the EU. You will need to be ready to adapt to avoid risking your existing MD product business. We at Chameleon Pharma Consulting Group are experts in international market entry and regulatory matters (MD, Drugs, FS, Phyto, Homeopathic). We have supported many companies to change their notified body to a different EU country in order not to risk their current sales.