Get The Important Insights!
Indisputably one of the most important countries in Latin America, the Brazilian OTC and pharma market is one which most consumer health and prescription companies dream of entering. While the Christ the Redeemer Statue may welcome all to Brazil, the regulatory agencies like ANVISA can be less welcoming. Getting past them may seem like a hassle, but CPC is here to assist you with the necessary tools and knowledge to do so! 
The Brazilian Healthcare system
The Brazilian Constitution considers universal access to healthcare a right of all residents in Brazil. This healthcare system is known as the SUS or Sistema Único de Saúde. SUS is a deeply decentralized healthcare system, which delegates much of the decision making processes regarding needs and purchases to the state and municipal level. The main functions of the federal government are:
To provide financing

To coordinate health information 

and coordinate health surveillance.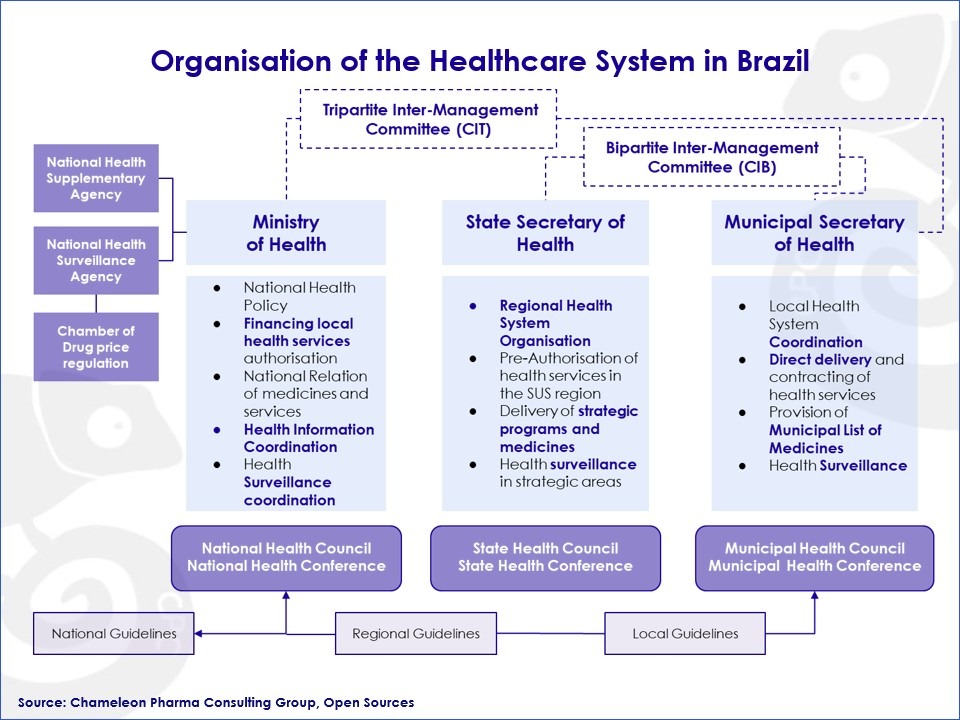 Figure: Organization of the Healthcare System in Brazil
ANVISA
The main national pharmacovigilance arm of the Brazilian government is known as the Agência Nacional de Vigilância Sanitária or simply as ANVISA. ANVISA handles a number of pivotal responsibilities as part of the ministry of health in Brazil. 
With their remarkably proficient digital systems, ANVISA has a legal mandate to process applications for drug variations in a maximum of 120 days for priority applications, and 365 days for ordinary applications, these time periods may be extended by a maximum of 33% of the respective times, in special circumstances. Although new drug formulas have been known to take a little longer.
Registration Process
Drug registration in Brazil requires stability studies for Zone 45 (hot, higher humidity) with around 6 months of accelerated stability and 6 months of long-term stability studies.
Naturally, the type of molecule also plays a role in the registration process. Small molecules, for example, require local release testing, whereas large molecules are required to provide shipping qualifications in line with ANVISA's guideline for transport. 
While all this may sound relatively complicated, it is worth noting that since joining the ICH (International Council for Harmonization of Technical Requirements for Human use) in 2016, ANVISA has begun to adapt its standards to international norms. This has meant that these processes have become increasingly easier, and more streamlined.
In any case, if all of this seems overwhelming or confusing, do not worry! CPC is here to support you with arranging your dossier, and make sure that you will be able to join this ever alluring self-medication and pharma market in Brazil.