Go East: Why Should Consumer Health and Pharma Companies Consider Vietnam?
As one of the few winners against the pandemic with modest financial resources, is the Vietnamese pharma market ready for international investments and collaborations?
The Covid-19 outbreaks and Vietnam's remarkable performance in containing its spread have proven that health is, and will absolutely continue to be, a priority for most Vietnamese and as well as for the government. 
The societal shift that is creating opportunities for Vietnam's Pharma and OTC  industry
Like most countries identified as emerging markets, Vietnam is undergoing drastic changes in terms of demographic, social and economic aspects. Most recently, there are some significant shifts that make Vietnam more and more competent in becoming a top-of-the-list for international companies that are looking to expand their business in emerging markets. 
The first and most important factor in this equation is the fast-growing middle class in the country. Vietnam currently has the fastest-growing middle class population in South-East Asia. This has significantly boosted demand for high quality and specialized healthcare services.
Subsequently, due to higher demand and affordability, the health insurance and hospital systems are expanding. Vietnam has become a coverage ratio leader within Asia and it has set a goal of covering 95% of the population with Universal Health Service by 2025. Hospital network is also fairly extensive and the government continues to finance the construction of new hospitals. At the same time, it is also increasingly looking at investment from private sector and international firms.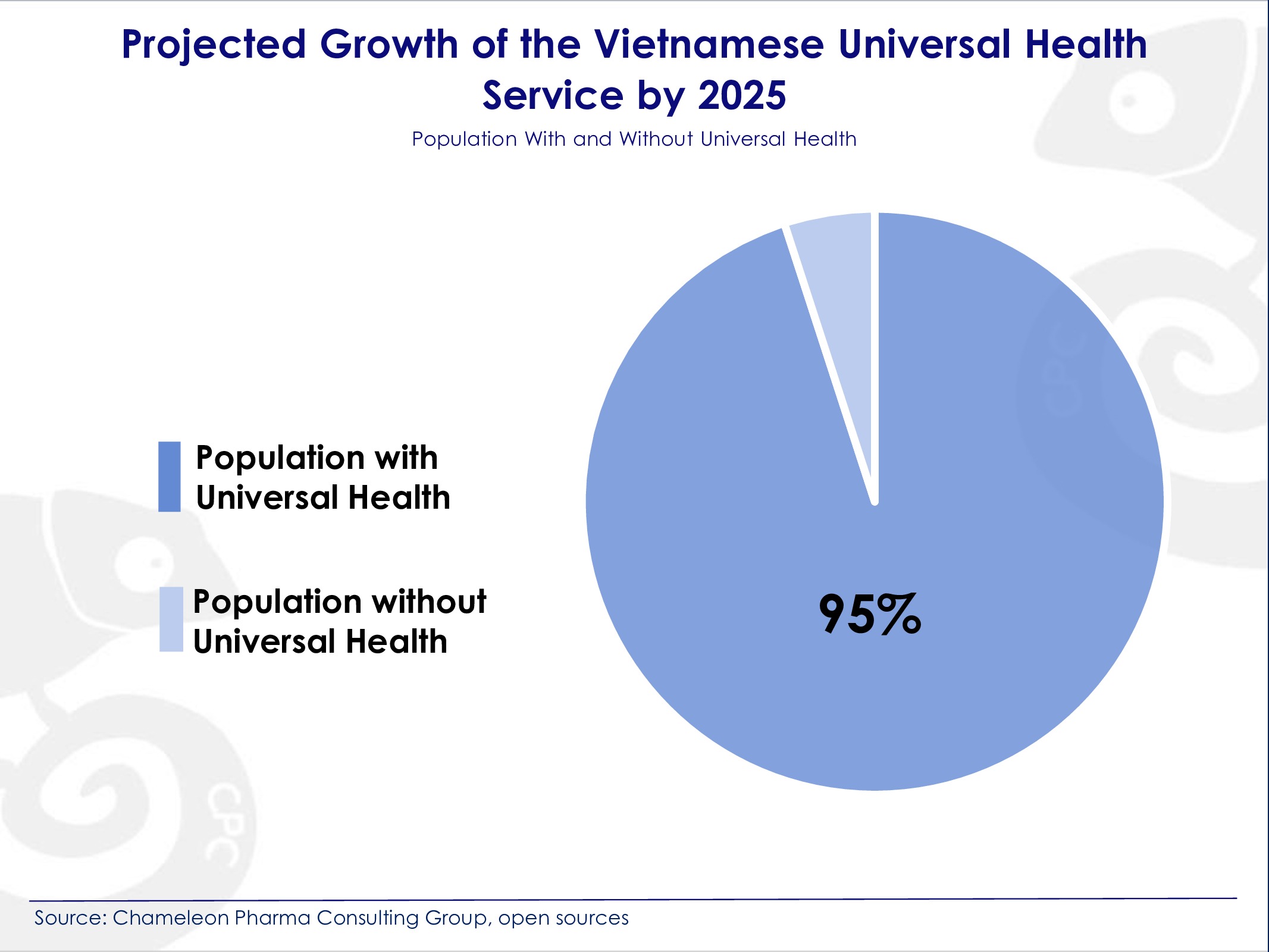 As a result, the country recently signed the European Union Vietnam Free Trade Agreement (EUVFTA). The agreement will remove tariffs for pharmaceutical products from the EU and allow foreign companies to import and sell pharmaceuticals to Vietnamese distributors and wholesalers. 
Furthermore, there was an Amended Law on Enterprise and Law on Investment, effective January 2021, that incentivizes investment in five key sectors including healthcare. Projects in these sectors will benefit from preferred enterprise income tax, exemption or reduction of land lease fee, and credit support.
Finally, investors should also pay attention to the development of Digital Healthcare in Vietnam. Recently, the Ministry of Health approved a five-year project on remote medical examination and treatment. Apps and medical services will be developed to manage files and knowledge systems, as well as helping patients find medical information, make their appointments, and consult doctors. These measures will accelerate the digitalization across Vietnam's hospital network. 
Overall, investors can be optimistic about the future of Vietnam's Healthcare Industry. The societal changes as well as the government's regulatory activities in favor of the development of the sector have made Vietnam one of the most attractive go-to emerging markets for companies and individual investors.