Get The Important Insights!
Get a glimpse into Morocco's thriving OTC, phyto, and pharma sector, with a projected CAGR of over 7% in the period between 2025-2035. Discover the latest trends, top 5 players, government initiatives, and the growth potential of this dynamic consumer health and Rx. market.  
Morocco's self-medication and pharma sector has been experiencing rapid growth and transformation in recent years, attracting investment, and drawing attention from both domestic and international players. With the government putting in place favorable regulations and initiatives to support the sector's development, the market holds significant growth potential.  In this article, we take a closer look at the current state of self-medication and Rx. sector in Morocco, the trends that are shaping its development, and the growth potential that it holds. 
The Current State of the Consumer Health and Pharma Sector in Morocco
Morocco's self-medication and Rx. market is becoming an attractive location for international firms seeking a base for their North African operations, due to its strategic location at the crossroads between Europe and Africa. The country has seen significant investments from pharma and OTC giants like Pfizer, Mylan, Sun Pharma, and Cipla in recent years. Domestic Moroccan companies are also expanding globally by bringing their products to African markets and forming partnerships with European companies.   The consumer health and pharma sector in Morocco is among the fastest growing in the Middle East and Africa region, with a projected Compound Annual Growth Rate (CAGR) of 7.37% in the period between 2025-2035, leading to a projected valuation of USD 5,99 Billion by 2035.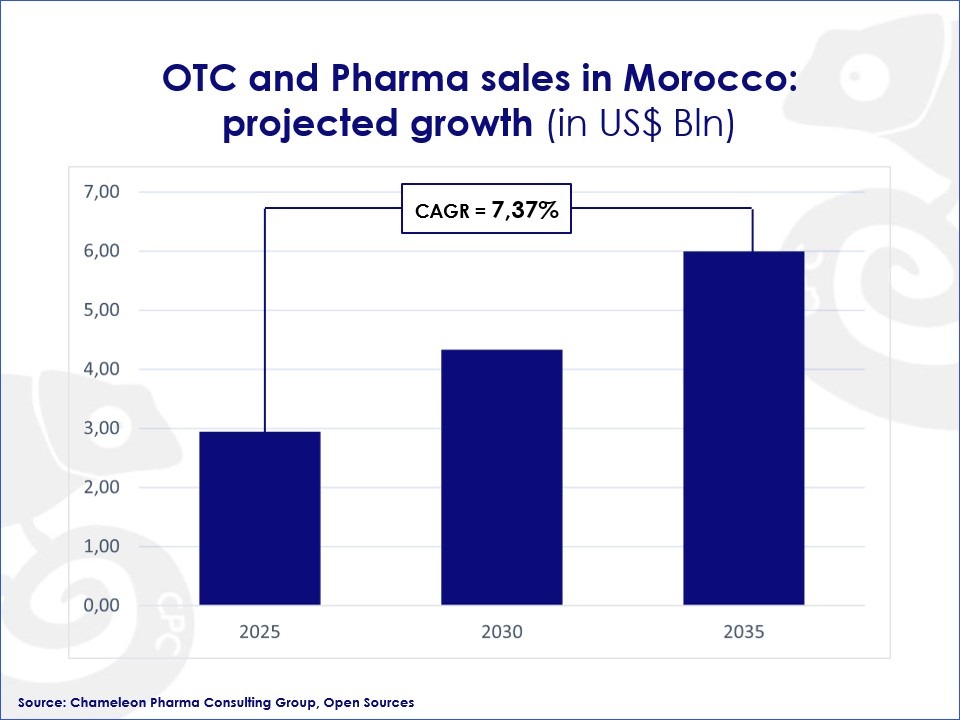 Figure 1: Projected growth rate of OTC and pharma sales in Morocco, 2035 horizon. 
Top 5 Pharma Companies in Morocco
Morocco is a significant self-medication and Rx. market in Africa, with several domestic companies. Here are five of the most important companies, their operations in Morocco and beyond, and their partnerships with multinational firms:       
      1. Galenica – founded in 1978, it develops generic drugs for Morocco, Africa, and the Middle East. The firm has developed around 280 OTC and specialty drugs and became the first African pharma company to be certified by Russian authorities. Every day, 100,000 patients use its medicines.      
      2. Afric-Phar – founded in 1966, it was one of the first pharma companies created by Moroccan pharmacists. It in-houses its production of generics and represents multinational pharma companies. It most recently signed a partnership agreement with Gilead allowing for the distribution of patented products for Hepatitis B and C, HIV, and fungal diseases.      
      3. Iberma – a contract manufacturer for multinational pharma companies that focuses on urology, gastroenterology, and psychiatry. The firm recently formed a joint venture with an Italian pharma company to open a laboratory for women and children's health.      
      4. Polymedic – originally a manufacturing plant for various multinational firms, it became a standalone company and has had partnerships with multinationals such as LEO Pharma, Sanofi, and Bayer, as well as launching its own generic products for chronic diseases. It received investment from AfricInvest in 2012, allowing it to expand outside of Morocco.      
      5. Bottu – starting as a subsidiary of Bottu France, it became an independent company. The firm is involved in both the production of OTC and prescription drugs, as well as representing multinational firms. 
Driving Trends in Morocco's OTC and Pharma Sector
The government has been actively supporting the growth of the sector through

favorable regulations

and initiatives. The most important of these initiatives was the extension of

compulsory health insurance (AMO)

at the end of 2022 to

22 million

people

(around 75% of the adult population in the country). 

 

The development of

medical tourism

has been a major driver of growth in the private healthcare sector, with a high demand for specialized treatments such as

cosmetic surgery and fertility treatments

. Aesthetic surgery and dental treatments are the most sought-after medical procedures that attract the most medical tourists to Morocco. It is a real source of income for the kingdom,

ranked 31st out of a total of 46 destinations

, according to the

medical tourism index–

a tool for measuring the attractiveness of medical tourism destinations.

 

The sector has also been heavily investing in

digital health

with the aim of improving access to healthcare services, particularly in rural areas.

 
Figure 2: Public Health Expenditure in Morocco, Share of Hospitals, Ambulatory Care, and Medications. 
Tenders market in Morocco
The process of acquiring tenders in the health sector in Morocco works similarly to how they are conducted in other countries. The Moroccan government simply invites businesses and organizations to submit bids for contracts to supply goods or services to the health sector.  These tenders are usually advertised publicly, and interested parties can obtain the tender documents by paying a fee or downloading them from the government procurement website. The bids are then evaluated based on various criteria, including price, technical ability, and experience. The winning bid is then awarded the contract. 
How to

Receive

you

r

I

ndividual

i

z

ed

I

nsights

 



The Chameleon Pharma Consulting Group has a long-standing network and extensive experience based on many projects around the world. We operate in various global industry segments, such as consumer health care, medical devices, Rx, OTC and cosmetics. We are happy to support you with your international strategy and are here to assist you with regulatory topics, GMP certificates, and market entry.