This year, the CPhI – the biggest pharmaceutical exhibition in the world – is once again held in Frankfurt. This exhibition works towards connecting thousands of pharma industry experts with manufacturers and suppliers, as well as educating the participants about the latest news in the pharma world. It is expected to once again welcome over 45,000 visitors and 2,500 exhibitors from all around the world, as it has done in the past. 
The CPhI layout is based on six different zones representing different parts of the pharmaceutical industry. It is the most effective way of keeping up with the constant flow of pharmaceutical updates. This year, the CPhI Worldwide event will take place on the 1st, 2nd, and 3rd of November 2022 at the Conference Center Messe Frankfurt in Germany.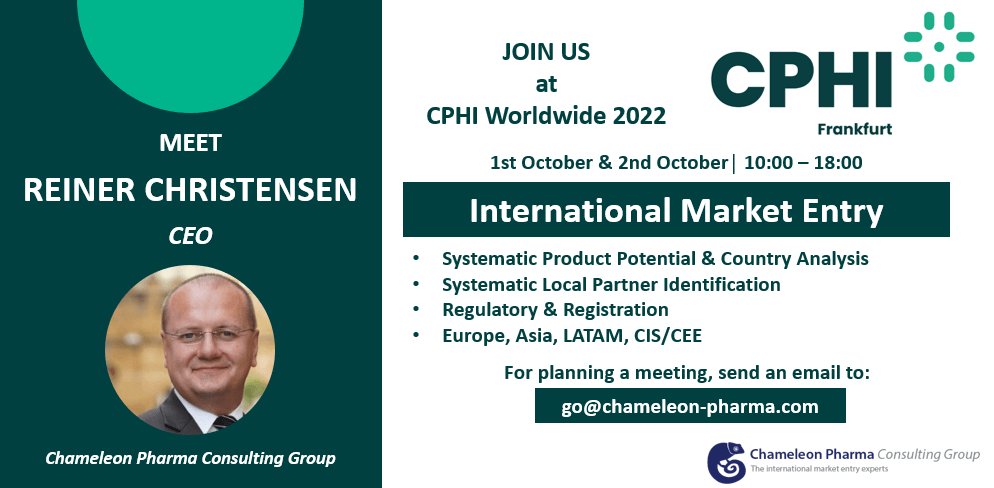 CPC Attendance
Mr. Reiner Christensen, the CEO of Chameleon Pharma Consulting, will be attending this event on the first two days. It will be an opportunity for you to discuss pharma market entry in CEE/CIS, Latin America, or Asia! You may discover our famous Systematic International Partner Company Identification process, already been used for more than 150 projects with pharma companies.  
Meet Chameleon Pharma Consulting Group at CPhI Frankfurt!
please contact us first at go@chameleon-pharma.com 
We are happy to meet you  on 1st & 2nd of November.