Get The Important Insights!
With a projected CAGR of 8.8% in the period 2023-2035, the Brazil's OTC and pharma market is one of the fastest growing in the world and leader in LATAM. Home to leading global players and a vibrant domestic industry, the market offers vast potential. In this article, we provide insights on the growth potential of the market, challenges and opportunities as well as leading players. 
Brazil's OTC and Pharma Market: A Growing Potential Country
Brazil's healthcare industry is a key economic driver and the largest in Latin America, with an estimated market value of USD 105 Bln. by the year 2035.  
Being the largest country in Latin America, with over 200 Mln. inhabitants and a publicly funded and government-run healthcare system, Brazil offers a large customer base in the OTC and pharma market. Around 10% of the Brazilian GDP, which was forecasted to rise to 12.6% by 2040, is allocated to the Sistema Único de Saúde (SUS), one of the world's largest health systems.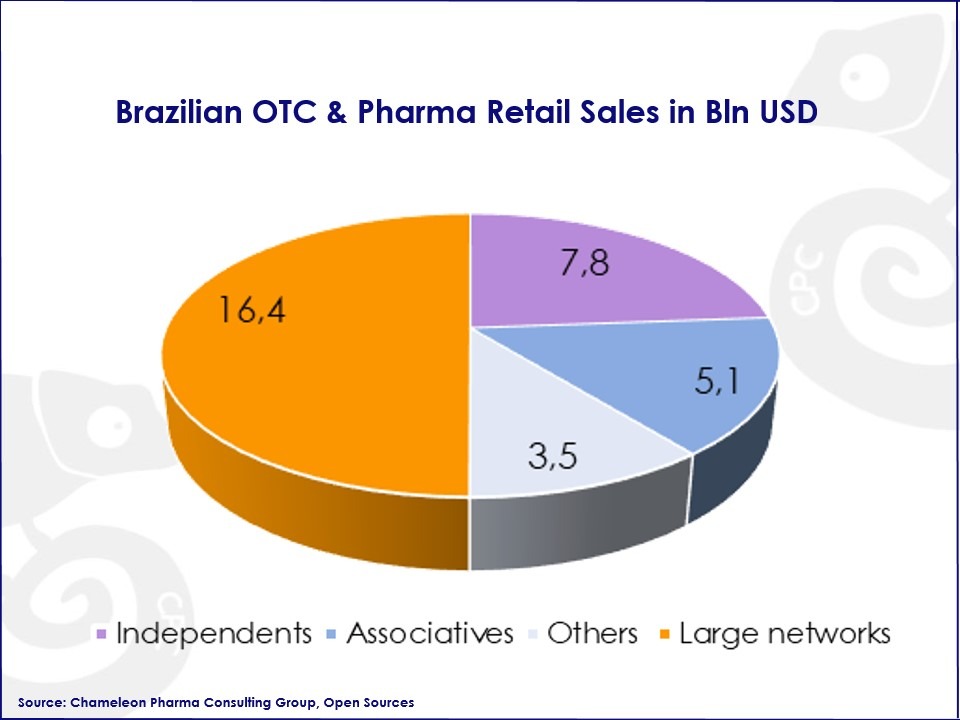 Infographic 1: OTC & Pharma Retail Sales in Brazil, in Bln USD 
As for the structure of the market, Brazil is the country with the most balanced sales division among the different pharmacy retail outlets in Latin America. Brazilian large networks accounting for only 50% of the market. This suggests that the Brazilian OTC and pharma market is characterized by perfect competition. 
Associative networks of pharmacies, representing 5,1% of the OTC and pharma sales in Brazil, are composed of small and medium-sized pharmacies collaborating while maintaining their branding and identity.   
High OTC and pharma demand & domestic shortage
Despite the high demand for OTC and Rx drugs in Brazil, the market suffers severe shortages, particularly for antimicrobial and antiviral agents. Supply chain issues in the market followed by high demand were identified to be the reasons behind the shortages.  
The OTC and pharma industry in Brazil maintains an import deficit of essential raw materials for the production of medicines. This is mainly due to a bottleneck in the nationalization of Active Pharmaceutical Ingredients (APIs), 95% of whose production is imported from markets such as China and India. 
To counter this shortage, the government is implementing policies to promote local production and increase access to medical technologies. Nevertheless, the country's top companies, including EMS, Eurofarma, and Aché, have established themselves as leaders in the industry, producing a wide range of products from painkillers to antibiotics, but also in niche areas such as phyto and homeopathic medicines.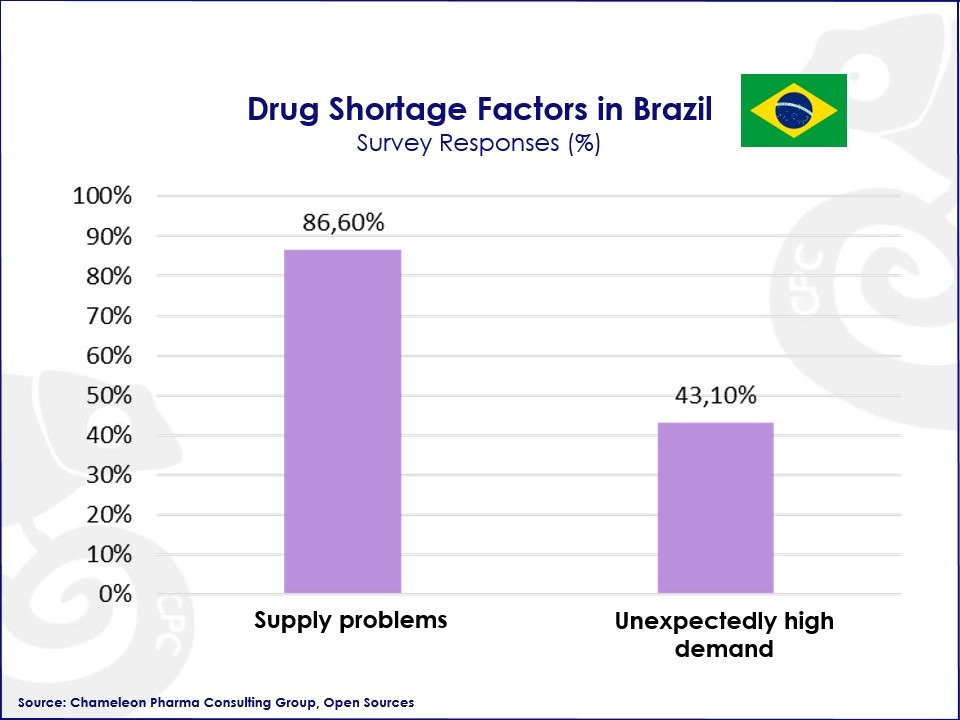 Infographic 2: Factors of Pharma Drug Shortage in Brazil by % 
These are compulsory changes which will affect the future of Medical Devices in the EU. You will need to be ready to adapt to avoid risking your existing MD product business. We at Chameleon Pharma Consulting Group are experts in international market entry and regulatory matters (MD, Drugs, FS, Phyto, Homeopathic). We have supported many companies to change their notified body to a different EU country in order not to risk their current sales.
We at Chameleon Pharma Consulting Group have a long-standing network and extensive experience based on many projects in Brazil and around the world. We operate in various global industry segments, such as Consumer Health Care, Medical Devices, Rx, OTC and Cosmetics. Thanks to our experience, with more than 25 successful projects, we are happy to support you with your international strategy and are here to assist you with Regulatory topics, GMP Certificates, and Market Entry. 
We are looking forward to providing you with our expert advice regarding Brazil or other markets you would like to enter.