When starting or expanding your international business, it is always important to take into consideration potential challenges that may arise and disturb your operations in a market. The consequences may be even greater if your business relies on only 1-2 particular countries. This is why we recommend considering expanding your activities to at least 5-7 OTC and pharma countries, as well as 3-4 indication groups.

 
Being dependent on only 1-2 countries can be synonymous with potentially great losses.
Political, economic, or even health crises can destabilize a country's market. Being too dependent on 1-2 markets means that the wellbeing of your operations is linked to the prosperity of the country you're doing business in. If the country's situation were to change, your business would automatically be impacted by the crisis. Maybe by a product shortage due to embargos or currency losses making transactions and companies lose value.
Consider expanding your business internationally. 
To avoid the dangers of overdependence on one market, it may be beneficial to consider expanding your business internationally. You should contemplate having at least 50% (better 70-80%) of your business internationally, in 5 to 7 countries, and 3 to 4 indication segments. Putting your eggs in different baskets will minimize the chance of business paralysis, and at the same time allow you to develop your portfolio by expanding your global reach.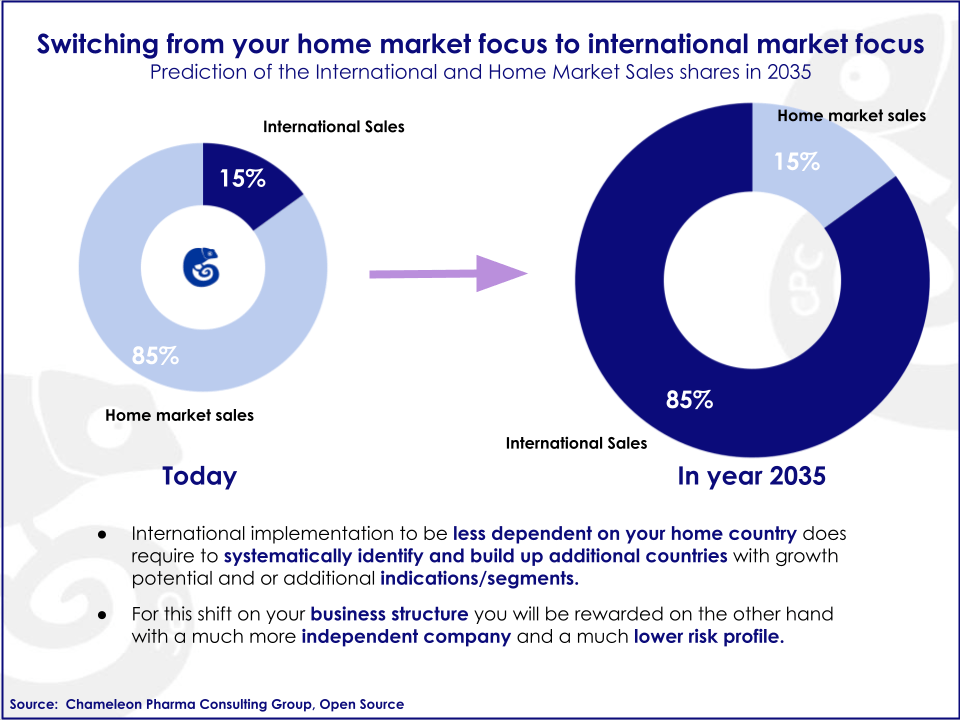 Figure: Switching from your Home Market Focus to International Market Focus
Where to go? 
The world is increasingly "globalized" and has a lot to offer, and some countries are worth being considered for your operations. Many regions have true hidden gems: 
Latin America has a number of promising emerging markets, with the encouraging growth of its consumer healthcare and pharma segment and advantageous regulations. There are very dynamic OTC and pharma markets such as Brazil, Mexico, Colombia, Peru, Chile and others. 
South East Asia has a lot to offer, with its high potential economic growth, the emergence of a middle class with higher spending power, aging population, as well as government reforms. The Philippines, Thailand, Vietnam, China, South Korea, and Indonesia are all attractive options to consider depending on your portfolio and strategy.
Europe may have a number of mature countries, but it may still be profitable to enter it if it fits your portfolio. France, Germany and Spain, Italy, The United Kingdom, Poland, Sweden, Denmark and Romania are the pioneers of the European OTC and pharma market. 
How Chameleon Pharma Consulting Group can help you expand your business internationally:
At CPC, we offer systematic country analysis and selection, as well as partner identification services to help identify the best fitting country and segment for your current portfolio and expansion goals. Our services can help you to expand your business internationally and be best prepared for future crises. If you want to learn more about expanding your business, we are here to help you !