Get important insights!
This is the first of a two-part series analyzing the aesthetic medicine market in the Asia Pacific and providing forecasts until 2035.
The global aesthetic medicine market has been experiencing solid double-digit growth. The Asia Pacific region is responsible for a significant share of this development, with the Asian market expected to reach USD 10 bln by 2030, according to Chameleon Pharma expert forecast.
Asian Aesthetic Medicine Market Overview
A study conducted by the International Society of Aesthetic Plastic Surgery (ISAPS) highlighted that Asia is emerging as the frontrunner in the aesthetic medicine industry. According to Chameleon Pharma research, Japan, South Korea, India and China are leading the way in this expanding Asian market, and it's expected that the region will surpass Europe in cosmetic spending.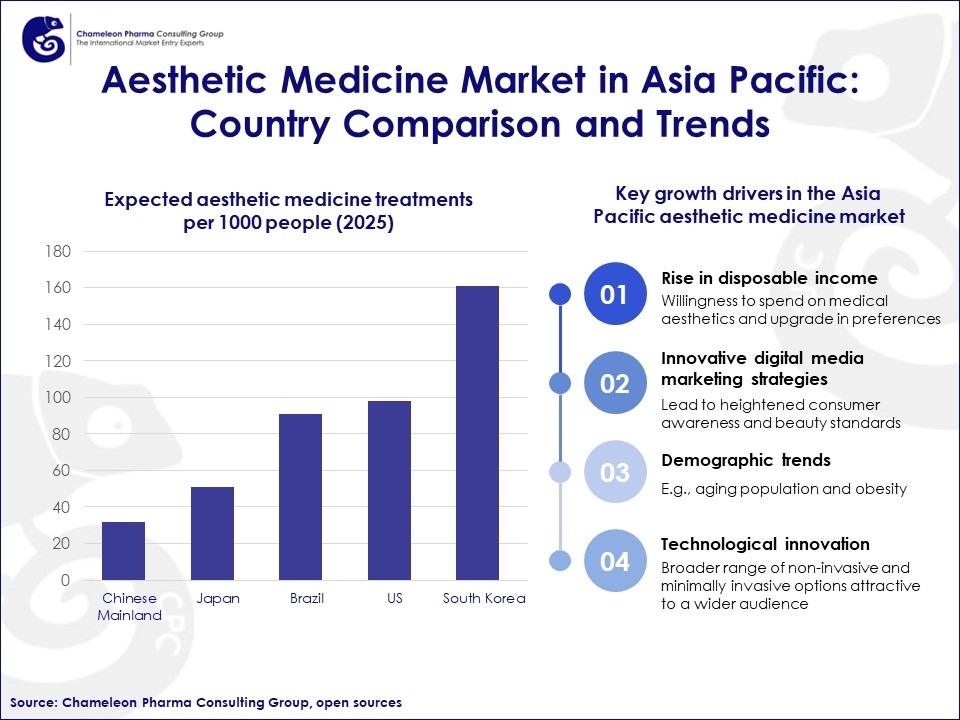 Figure 1. Asian aesthetic medicine market: growth drivers and comparison with other global players in 2025
The aesthetic medicine market in APAC has a diverse landscape of approaches and preferences across its nations.
China is one of the largest and fastest-growing markets. The local patients tend to value the opinion of acquaintances and KOLs when deciding in favour of aesthetic enhancements. They express an especially strong interest in the following procedures:

double-eyelid surgery (blepharoplasty)
whitening photoelectric treatments
skin rejuvenation, e.g., tightening and anti-aging laser & other photoelectric treatments
mesotherapy
botox, filler & hyaluronic acid injections.

South Korea has been the fastest-growing aesthetics market in Asia-Pacific for several years and one of the most important global hubs for aesthetic enhancements. South Korea is characterized by a high adoption rate of innovative technologies, as well as a growing demand for affordable and quality cosmetic procedures and products, which is driven by societal and social media trends. Its aesthetic device market is expected to grow at a CAGR of 8.14% between 2025 and 2035. The most common procedures performed in South Korea are:

double-eyelid surgery (blepharoplasty)
nose surgery (rhinoplasty)
jaw and face contouring surgery
skin rejuvenation, e.g., tightening and anti-aging laser & other photoelectric treatments
whitening photoelectric treatments
botox, filler & hyaluronic acid injections.

Japan is experiencing rampant growth due to the surging geriatric population. Intense pulsed light (IPL) and diode laser hair removal is among the most common treatments in Japan, with around 35% of clinics offering these services.
Thailand, Singapore, Vietnam, the Philippines and Indonesia are emerging as secondary markets, with growing awareness and accessibility of aesthetic treatments. Moreover, according to CPC experts, the regulatory in Vietnam, Thailand and Philippines is significantly simplified compared to other counties.
Australia and New Zealand are also actively growing markets, with a diverse range of indications and products, as well as premium pricing. Local consumers tend to go for non-invasive cosmetic procedures, such as dermal fillers, Botox, and laser treatments, due to their minimal downtime and achievable natural outcomes. Moreover, skin rejuvenation treatments, including chemical peels, microdermabrasion, and IPL therapy, are in high demand.
India is a huge but isolated market, with a low penetration rate of aesthetic services and a high potential for growth. It is the world's tenth largest aesthetic medicine tourism hub due to the availability of high-quality surgical facilities.
Overall, the Asian aesthetic medicine market presents a tremendous opportunity for foreign companies due to its active growth, high demand for aesthetic medicine procedures, as well as large and diverse population.
Chameleon Pharma Consulting Group has more than 20 years of experience in providing support to companies looking to enter or expand in international aesthetic and pharma markets. With the expertise amassed from more than 160 international projects and 22 experts around the world, CPC Group offers: 
Systematic product and country analysis;
Systematic local partner identification;
Regulatory and registration assistance.
Stay tuned for Part 2 of the series — an in-depth exploration of the trends driving the APAC aesthetic medicine market's growth and evolution. It's the perfect follow-up to the first half of our series, and you won't want to miss it!