Get The Important Insights!
The Leading Pharmacy Chains in Mexico: Insights and Future Outlook
Pharmacy chains in Mexico have taken the lead in the share of OTC and pharma product sales. The winning strategy of pharmacy chains has included unique value propositions adapting to Mexican consumers' and patients' demands.
OTC, Pharma, and Derma-Cosmetic Retail Channels in Mexico
In Mexico, the OTC, Pharma, and Derma-Cosmetic retail market is split into 3 segments: pharmacy chains, independent pharmacies, and supermarket pharmacies.
Pharmacy chains

have the

biggest share of sales in terms of value in this segment, with 65% of the sales

of consumer health and pharma products.

Independent pharmacies

,

composed of medium and small size enterprises, have

19,5% of the share of sales.
Supermarket chains

have a

  14,5% share of the market

, mainly focusing on the sale of OTC, vitamins, supplements, beauty, self-care products, as well as Rx.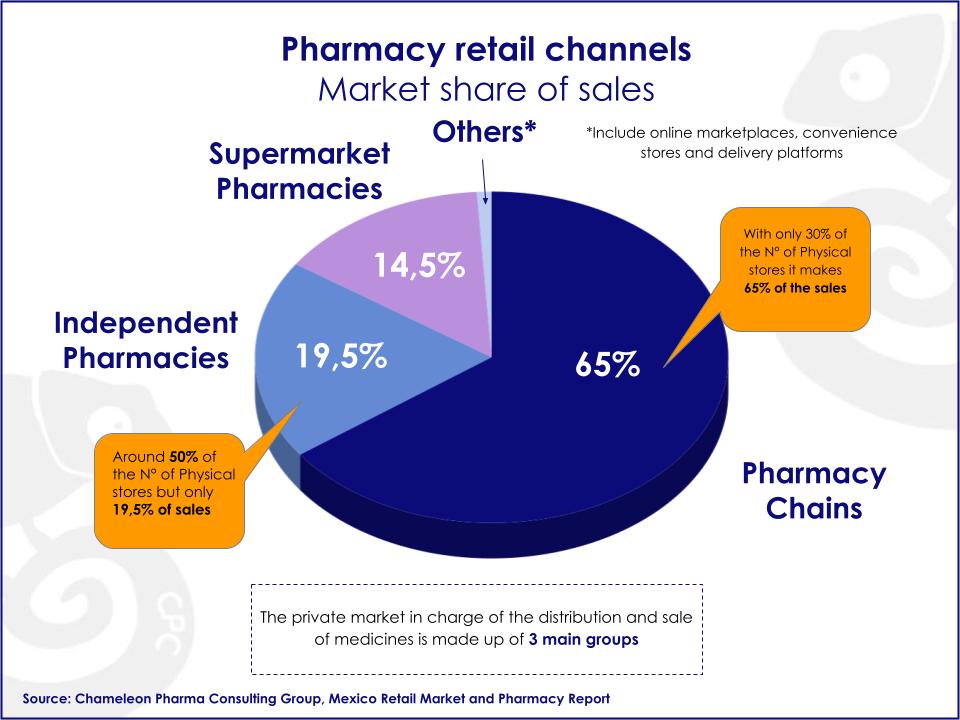 Infographic 1: Pharmacy Retail Channels, market share
Additionally, other retail channels for OTC and healthcare products include online marketplaces like Mercado Libre, Amazon, and Linio. Also, convenience stores like Oxxo, 7 Eleven, and Circle K as well as delivery platforms like Rappi provide home delivery services for some of the pharmacy and supermarket chains.
Top 5 Pharmacy Chains in Mexico 
These are the biggest pharmacy chain companies in Mexico:
Farmacias Similares

Farmacias del Ahorro

Farmacias Guadalajara

Farmacias San Pablo 

Farmacias Benavides.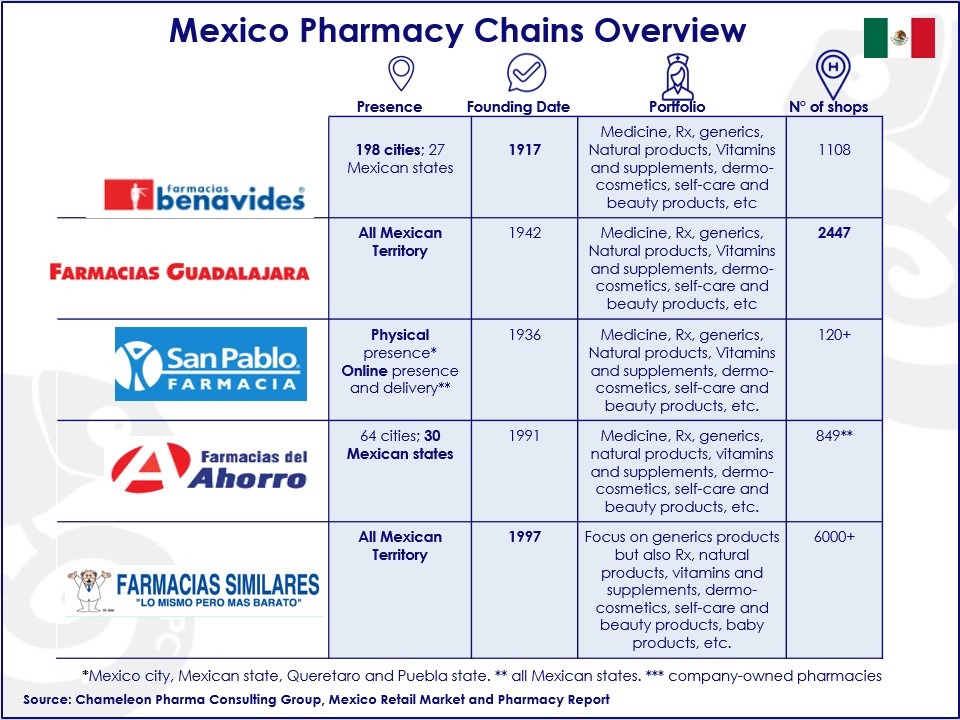 Infographic 2: Mexico Pharmacy Chains Overview
Presence in the Mexican Territory
Pharmacy chains have around 30% of the number of physical stores that commercialize self-medication and Rx products in the country.
Farmacias Similares, the biggest pharmacy chain in Mexico, accounts for about 5000 stores on Mexican territory. Farmacias Guadalajara physical presence comprises almost 2500 stores, Farmacias Benavides more than 1000 and Farmacias del Ahorro more than 900. Farmacias San Pablo operates approximately 100 physical locations throughout the country.
Each of these pharmacy chains have unique strategic pillars that make them stand out in this highly competitive market. These chains bring a wide array of services for their customers under the same umbrella, namely: prescription and OTC medicines, convenience stores, loyalty plans with discounts and promotions, greater distribution reach, as well as medical services with certificated doctors. Moreover, these pharmacies provide efficient online services like: e-commerce shopping, telephone assistance, mobile applications, and/or webpage with delivery services in express times. 
Chameleon Pharma Consulting Group has published a detailed Mexican Market report to give you insightful information about the high-growth OTC segments in Mexico, with an expert outlook to 2035. Additionally, we provide details about the OTC, Phyto, homeopathic, medical devices, and vitamins and minerals product registration, as well as an overview of the largest Mexican OTC companies. Furthermore, this extensive analysis emphasizes the private retail market channels. We give an introduction to the rules governing the pharmacy industry and the market share of sales made by pharmacy chains, independent pharmacies, supermarket pharmacies, and other recently popular retail channels. Contact us for the report here!
Photo by Jorge Aguilar on Unsplash