Get The Important Insights!
The French consumer health and pharma market has been consistently growing in recent years and is estimated to grow at a Compound Annual Growth Rate (CAGR) of 2,17% in the period between 2025-2035. The overall consumer health and pharma sales are projected to be worth USD 64,33 bn by the year 2035, with a strong demand for OTC products, which constitute about 20% of the total sales. The French OTC and pharma industry is one of the most established in Europe, with a rich history of producing innovative products, particularly in the areas of derma, phyto, and homeopathy. 
France's

OTC and

Pharma

Market: An Overview

 
France is home to over

200

consumer health and Rx

companies

, including

Sanofi, Pierre Fabre, and Servier.

 

The French

consumer health and

pharma market is the

4th largest in Europe

and

6th largest globally.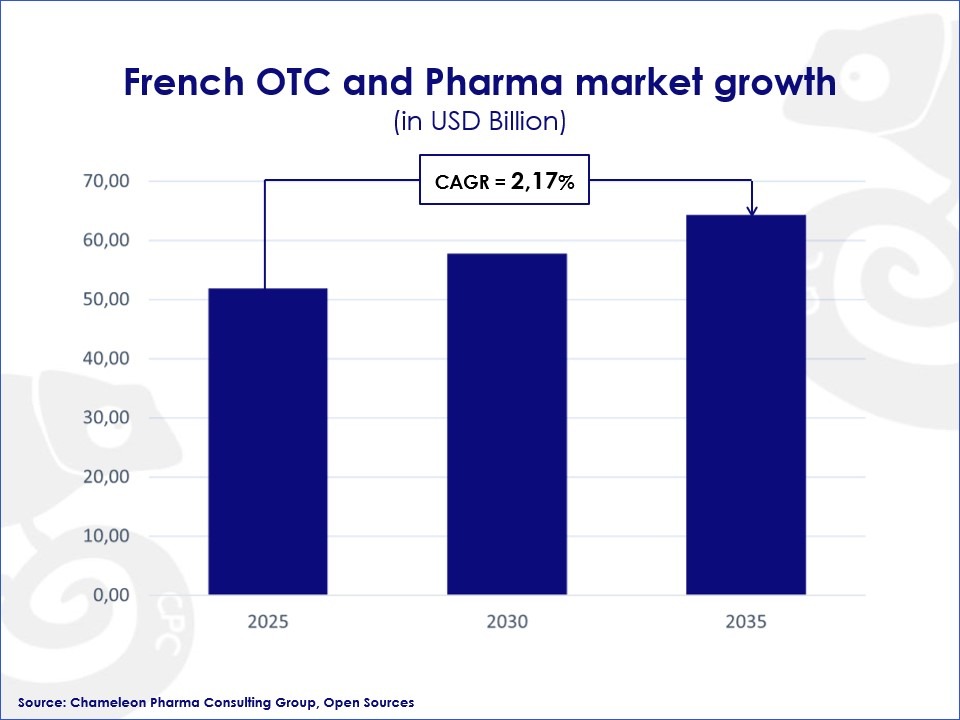 Figure 1: Projected growth of the French OTC and Pharma sales in USD, 2035 horizon 
Leading Actors in the OTC and Pharma Market 
The French consumer health and prescription market is dominated by a few large players, including: Boiron, Arkopharma, Sanofi, Pierre Fabre, and Servier. These companies have a strong presence in both the Rx and OTC markets, with a diverse range of products. Sanofi, for example, has a significant presence in the Rx and vaccine markets, Boiron is pioneer in homeopathic medicines, and Arkopharma is a leading producer of phyto products. In addition to these large players, many smaller, specialized companies play an important role in the industry, particularly in derma, phyto and homeopathic medicine. 
Trends Shaping the Consumer Health and Pharma Industry
Increased focus on self-medication:

The trend towards self-medication is growing in France, with consumers seeking out OTC products to treat a range of conditions.

 

Digitalization and technology:

The use of digital tools is increasing in the French pharmaceutical market, with companies investing in online platforms to reach consumers and improve supply chain efficiency.

 

Personalized medicine:

Personalized medicine is becoming more prevalent in France, with companies offering customized treatments based on individual needs and genetic information.

 

Growing demand for natural and organic products:

Consumers in France are becoming increasingly interested in natural and organic products, including phyto and homeopathic remedies.

 
Open Innovation in the Service of the OTC and Pharma Industry:
In the consumer health and pharma sector in France, open innovation has become an indispensable part of the industry. Pharma companies are, thus, turning to open innovation to gain a competitive edge and stay ahead of the curve.  
In recent years, France has seen a significant increase in the number of collaborations between pharma companies and those in other industries such as tech and healthcare. This approach helps the pharma companies to access new technologies, knowledge, and ideas leading to a more efficient R&D process and an enhanced product portfolio.  
Additionally, the French government is also providing support by offering tax incentives and funding for innovation. This supportive environment makes it an attractive destination for investors who are looking to invest in the OTC, Rx, and pharma market in France. 
How to Get Personalized Insights for Your Business 
Chameleon Pharma Consulting Group has a long-standing network and extensive experience gained from many successfully completed projects around the world. We operate in various global industry segments, such as: consumer health care, medical devices, Rx, OTC, and cosmetics. We are happy to support you with your international strategy and are also here to assist you with regulatory topics, GMP certificates, and market entry strategy for the French and other EU markets.