Interview to Elena Vatutina

About Elena Vatutina
Mrs Vatutina is the edi­tor-in-chief of the Katren Style media project. Every month she and her team are faced with the chal­lenge of pro­duc­ing new and inter­est­ing edi­tions of the two leading pharmacy and medical mag­a­zines in Rus­sia. Through her work, Mrs. Vatutina gains some of the best insights into the Russian phar­macy mar­ket. Today Mrs. Vatutina lives in Novosibirsk with her fam­ily.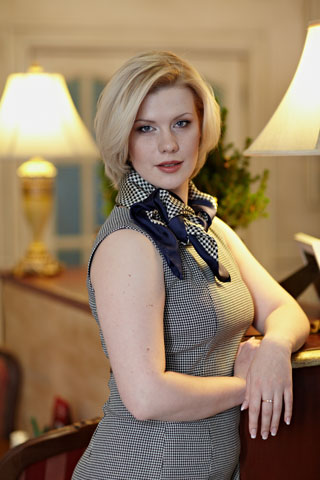 CPC Team: As a child, what did you want to be when you grew up?
ELENA VATUTINA: When I was a child, I some­times dreamed of becom­ing a den­tist. Some­times I pre­tended I was the tooth fairy, and that all of my dolls were my patients.
CPC Team: Which books or films inspire you?
VATUTINA: I most recently read Karen Blumenthal's Steve Jobs: The Man Who Thought Dif­fer­ent. This book influ­enced some of my views on how to com­pete in a dif­fer­en­ti­ated mar­ket and how to face some new oppor­tu­ni­ties in my project's devel­op­ment. It also showed me how impor­tant chance and change are in busi­ness.
In terms of films, well, I really liked Alice in Won­der­land with Johnny Depp in the main role. Hon­estly, I like watch­ing how dif­fer­ent he can be in every new film and every new role. We all play dif­fer­ent roles in our every­day lives. Take me, for exam­ple: I'm a mother, a wife, an editor-in-chief, etc. I believe that we all have to learn how to play each of our roles in the best way pos­si­ble — and Johnny Depp is a great exam­ple of that!
CPC Team: What is a source of moti­va­tion for you?
VATUTINA: A chal­lenge. If there are no chal­lenges, there is noth­ing to achieve, is there?
CPC Team: What can make you angry?
VATUTINA: Unsolved prob­lems. It is a great moti­va­tion to solve them.
CPC Team: Is there some­thing you can't say "no" to?
VATUTINA: I can never say "no" when my four year old daugh­ter comes to me say­ing, "Mummy, let's agree: I will clean my room, and you will buy me a new iPad game." I always say, "Okay!" Unfor­tu­nately, it hap­pens rarely.
CPC Team: What do you like to do in your spare time?
VATUTINA: I lack spare time! If there is any, I pre­fer fig­ure skat­ing or play­ing the piano; hob­bies can really help me relax.
CPC Team: Could you share the secret of your favourite food with us?
VATUTINA: Sure. My favourite dish is fried pota­toes.
CPC Team: What coun­try/city do you like most, or have you always wanted to visit?
VATUTINA: There are three such places for me. First, Dubai. I really love this city. The first time I was there was after I'd grad­u­ated from the MBA pro­gramme. Since then, it's been a good place to relax for me.
Sec­ond, Hong Kong. This is the city that expresses my lifestyle: it never stops.
Lastly, Moscow. This city is a really effec­tive place for me to work. It has our pro­duc­tion and logis­ti­cal cen­tre, most of our part­ners are located there, etc. As for me, it's a place where new ideas are born and new inter­ests are dis­cov­ered.
CPC Team: What has been the most suc­cess­ful deci­sion you've made in your life?
VATUTINA: Well, I'd bet­ter tell you about the two deci­sions that have influ­enced my pro­fes­sional life the most.
The first hap­pened in 2004, when I was invited to work for the Katren Group as a PR man­ager and I agreed. That's how I started my career in the phar­ma­ceu­ti­cal industry.
The sec­ond deci­sion was in 2006, when I agreed to become the edi­tor of Katren Style. At that time, Katren Style was a small cor­po­rate news­pa­per and I was the only one respon­si­ble for the edi­tion. This was a really dif­fi­cult deci­sion for me, because it was a huge amount of work and the goals were extremely ambi­tious. I wasn't sure whether I could get through it. But I agreed, and it was a great chal­lenge.
The main aim was to make our edi­tion the best among other phar­ma­ceu­ti­cal media. That's why the Katren Style news­pa­per was rede­vel­oped into a "lifestyle" pro­fes­sional mag­a­zine for phar­ma­cists. We achieved our aim and became number one in May 2010. (Pharma-Q, Syn­o­vate Com­con research)
Later, in 2012, we started sev­eral new projects – an edi­tion for GPs, a new web­site and more. Right now, I have a great pro­fes­sional com­mand of edi­tors, design­ers, pho­tog­ra­phers, jour­nal­ists and man­agers. We've already been ranked number one in read­er­ship and audi­ence cov­er­age – and number one in terms of impor­tance of information – six times in a row!** And while think­ing about all of these achieve­ments, I some­times ask myself, "What would I do now, if I had made dif­fer­ent deci­sions in 2004, if I hadn't faced these chal­lenges?" Hon­estly, I'm glad that all of this has hap­pened to me.
CPC Team: Who is the person you admire most, and why?
VATUTINA: There are two peo­ple I admire most. The first one taught me how to face chal­lenges and to not be afraid of changes. The sec­ond one showed me huge wis­dom and always inspires me to be a good leader. These two peo­ple are my mother and my hus­band.
International Strategy & Analysis
International Business & Market Entry
Pharma Regulatory & Registration
Product Potential & Country Analysis
International Company Partner Identification
Market Reports and Analysis