Interview to Dr Rucsandra Hurezeanu

About Dr Rucsandra Hurezeanu
Dr Hurezeanu is the Gen­eral Man­ager and share­holder at Ivatherm in Bucharest. Even though every major inter­na­tional cos­metic brand is present on the Roman­ian mar­ket, Hurezeanu has devel­oped the Ivatherm brand from a start-up posi­tion in 2005 to its status as one of the TOP 5 pre­mium dermo-cosmetic brands. Dr Hurezeanu lives in Bucharest with her fam­ily.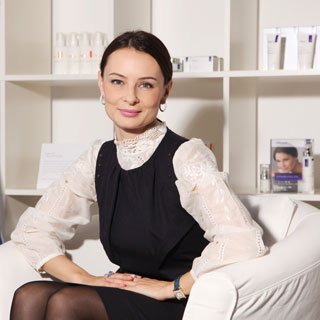 CPC Team: As a child, what did you want to be when you grew up?
HUREZEANU: When I was a child, I wanted to become a doc­tor – just like my father. After grad­u­at­ing from med­ical school, I was drawn to my mother's career, as she was a very suc­cess­ful entrepreneur. So I started work­ing in the phar­ma­ceu­ti­cal indus­try. When I dis­cov­ered marketing and heard about the great suc­cess sto­ries in busi­ness, I knew that one day I would launch my own brand.
CPC Team: Which books or films have inspired you?
HUREZEANU: One of my favourite writ­ers is Elif Shafak, a con­tem­po­rary Turk­ish female writer. Shafak man­ages to weave east­ern and west­ern tra­di­tions into sto­ries about women, immi­grants, phi­los­o­phy, Sufism and pol­i­tics. I recently enjoyed read­ing The Forty Rules of Love and The Bas­tard of Istan­bul. I can't wait to read Black Milk and The Saint of Incip­i­ent Insan­i­ties, which are already wait­ing for me on my bed­side tab
CPC Team: What is a source of moti­va­tion for you?
HUREZEANU: My main source of moti­va­tion – and our mis­sion as a brand – is to pro­vide women with effec­tive and safe cos­metic prod­ucts while keep­ing up with inno­va­tions in modern cos­me­tol­ogy.
WEM News: What can make you angry?
HUREZEANU: Almost noth­ing.
WEM News: Is there anything you can't say "no" to?
HUREZEANU: Meet­ing with my dear friends.
WEM News: What do you like to do in your spare time?
HUREZEANU: I love city trips to one of Europe's cap­i­tals – Paris, Rome and Berlin. Because I travel with my chil­dren and my hus­band, our sched­ules always need to be nego­tiable! But we never miss out on muse­ums, good restau­rants, the the­atre or the opera.
WEM News: Could you share the secret of your favourite food with us?
HUREZEANU: Caviar, cham­pagne, dark choco­late.
WEM News: Which coun­try/city do you like most, or have you always wanted to visit?
HUREZEANU: It was always and still is Paris. I stud­ied for a time in Paris, and it is the most beau­ti­ful mem­ory from my youth. A piece of my heart will be there forever.
WEM News: What has been the most suc­cess­ful deci­sion you've made in your life?
HUREZEANU: The found­ing of Ivatherm was the great­est chal­lenge of my career, but it has also given me the most sat­is­fac­tion. I had the courage to launch Ivatherm and intro­duce cos­metic prod­ucts for phar­ma­cies; I engaged in com­pe­ti­tion with major multi-­na­tional com­pa­nies. After just seven years, we now occupy the fifth posi­tion in the mar­ket, with a dou­ble digit increase each year.
WEM News: Who is the person you admire most, and why?
My hus­band is the most intel­li­gent, cul­ti­vated and humor­ous man I have ever met. He has taught me not to take myself too seri­ously.
International Strategy & Analysis
International Business & Market Entry
Pharma Regulatory & Registration
Product Potential & Country Analysis
International Company Partner Identification
Market Reports and Analysis