The last pandemic has shown how quickly companies have to adjust to the Healthcare market dynamics and changing patient/consumer patterns.
In order to be able to face those challenges with a positive outcome, it is fundamental for OTC and Pharma companies to think outside the box. How? Expanding horizons.
This can mean different roads to take in order to differentiate your business, from targeting new markets to enter or to expand the pipeline with different products. Of course, these actions bring other challenges to overcome but they can make a big difference for the future of your business.
Shift from your home country to international growth!
Often, the immense growth potential of the Emerging Markets – especially in the OTC and Pharma Business – is not really taken into account. In reality, expanding the "home-business" to the Emerging Markets can represent a turning point for your company.
Being less dependent on your home market means lowering the risk of an unexpected crisis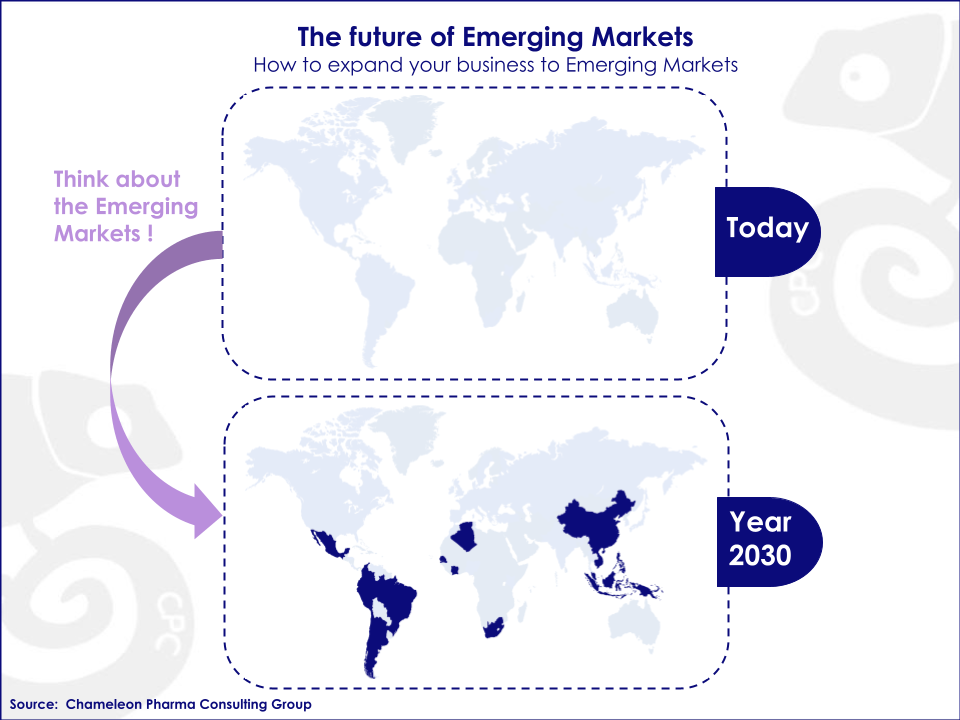 Infographic 1: The Future of Emerging Markets
Search for new horizons!
Targeting some familiar neighbour countries' market to enter and develop the business can be a safe choice for a company but exploring new opportunities with one or two Target countries may grow your international sales significantly and minimize your risk and dependence on the Home Market.
Enlarge your portfolio with a new segment!
The last pandemic has shown how much differentiation can be important for a OTC and Pharma company. This is the moment to search and find a new solution to develop the Portfolio and shift from one to two or three other indication groups or segments. New challenges for R&D? No worries, Consumer Health and Pharma experts like us could help your business to develop ideas in line with your existing products

Infographic 2: Expanding your Portfolio
Not sure how to do it? This is where Chameleon Pharma Consulting steps in! Helping you and your business to expand, whether it is Portfolio or Target Countries expansion we can support in diversifying the company and benefit from all the roads that the world of Emerging markets can offer.