Market environment in Russia & the EAEU
The Eurasian Economic Union (EAEU) was founded in 2015 to increase the integration and interaction among its member states, including Armenia, Belarus, Kazakhstan, Kyrgyzstan and Russia. The region has more than 183 million inhabitants in total. With a GDP of over 4 billion USD, it is a large market for OTC Pharma, Food Supplements, cosmetics and medical devices. The union has a free trade agreement with many Asian countries like Vietnam, China, South Korea, etc.

The alliance in the region creates more opportunities for business and trade. In the Healthcare sector, for instance, the member states of the EAEU signed an agreement on building a uniform OTC and Pharma market in 2016, aiming to harmonize the regulatory elements within the region.
Russia is the largest market in the EAEU region and has a significant impact on the other member states. The OTC, pharma and medical device market in Russia has been growing continuously in recent years. The market is still highly dependent on imported products though. More than 70% of the value of the OTC & pharma market was created by imported products in 2018. Those products are mostly from the EU, Asia, Middle East or Latin America.
How to register your imported OTC & pharma products
The Ministry of Health is the authority responsible for the registration of drugs in Russia. The total duration is usually more than 14 months. In the following chart the market authorization processes for OTC and pharma products in Russia is shown: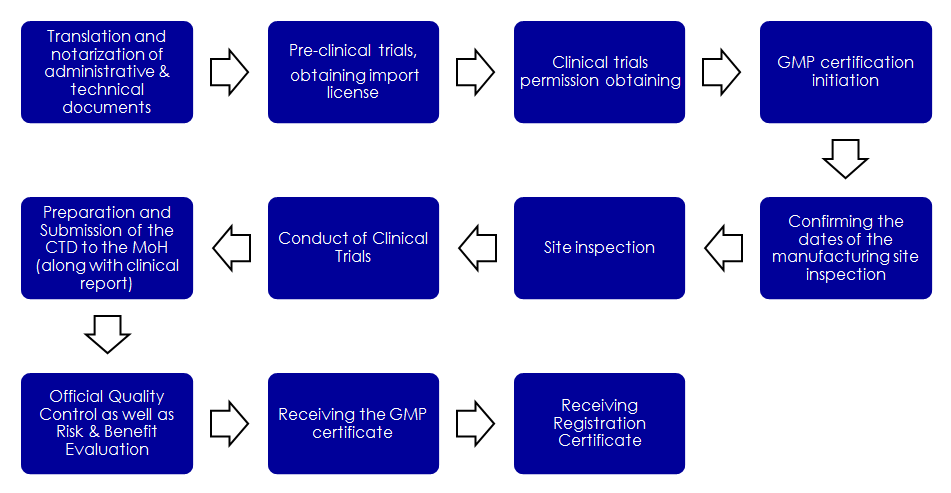 To improve the accessibility of OTC and Pharma products, Russia allows pharma products from the U.S., EU and Japan to launch their products without substantial local clinical studies. Thus these countries have an advantage when entering the Russian market with their OTC and Pharma products.
For registering a Healthcare product in Russia a Russian GMP certificate, issued by the Ministry of Industry and Trade, is required.
The registration of medical devices in Russia is regulated by Roszdravnadzor (RZN) with requirements including Russian technical files, local testing, and Russian clinical data.
Cooperating with a local partner is usually the first choice for foreign OTC, pharma and medical device companies entering the Russian market. CPC experts support you with looking for the right partner for you and entering the Russian market.